Mark Steines Sues Hallmark Channel Claiming He Was Fired for Reporting Harassment
Former Home & Family host Mark Steines is breaking his silence about his firing from the Hallmark Channel by taking legal action.
The TV personality is suing the channel's parent company Crown Media for unlawful termination, alleging that the company let him go for reporting that producer Woody Fraser was verbally abusive. He also says he spoke out in support of female coworkers who claimed to have been sexually harassed by Fraser, reveals The Hollywood Reporter.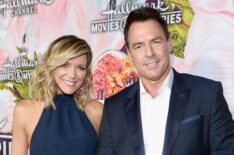 See Also
The co-host abruptly exited on Friday. A look into what happened.
Steines says the network prides itself on a "squeaky-clean image," and avoids controversial subjects at all costs. The former host claims that Fraser's on-set presence was "vulgar, demeaning, and hostile work environment, especially for the women."
Among some of the lewd things Steines says Fraser did include making vulgar comments about female guests in his earpiece and giving unsolicited hugs to female coworkers. When two of Steines' female coworkers accused Fraser of sexual harassment he says he provided "truthful information" to their lawyer Lisa Bloom, who is representing him in his current case against the company.
"They substantially reduced his salary, abruptly cut his regular voice-over work, diminished his role in network events, and cut him out of the show's opening sequence for Season 6," Bloom writes in the complaint.
"Defendants' retaliation ultimately culminated in Mr. Steines' abrupt early termination, conducted in an utterly unprofessional manner intended to personally humiliate Mr. Steines while maximizing damage to his professional reputation."
See Also
The TV personality joins fellow co-host Debbie Matenopoulos.
Back in May when Steines' termination took place, speculation about misconduct took place in the midst of the #MeToo Movement. Later, the company released a statement saying they parted ways with Steines over creative differences.
As for Crown Media, they responded with their own statement, despite not having received Steines' lawsuit yet. "There is no merit to the legal claims Mr. Steines is asserting against Crown Media. Crown Media is also surprised that Lisa Bloom is representing Mr. Steines in this matter since she has a consulting agreement with Crown Media," they told Deadline.