Expect the Unexpected in 'Dr. Oakley: Yukon Vet' Season 6
Bundle up for more adventures with hardy, humorous veterinarian Dr. Michelle Oakley and her family in the frozen north — and beyond in Nato Geo Wild's Dr. Oakley: Yukon Vet.
In Season 6, for the first time, we join her for international wildlife conservation work in Sweden with brown bears and in the French Alps with ibex, wild goats that can balance on sheer cliffs.
See Also
Plus, the Animal Planet star shared how he got into animal rescue.
"We take what we learn home," says Oakley, "like techniques of working out in the field in a super-remote situation or [information on] why the Swedish bear population is growing like crazy."
Back home in her beloved Yukon and Alaska, she does a C-section on a four-pound terrier and works with moose, musk ox and other biggies. She even gets kicked by a horse she's treating in subzero (-31!) temps with daughter Sierra, 21.
"The film crew loves it when I almost get killed," Oakley jokes. "It's a tough job, but I wouldn't trade it for the world."
Dr. Oakley: Yukon Vet, Season Premiere, Saturday, Oct. 6, 9/8c, Nat Geo Wild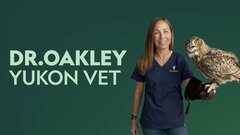 Powered by