'Vet Gone Wild' Star Dr. Chris Brown Talks Animal Rescue & His Oddest Pets
From house cats to koalas, Dr. Chris Brown knows what's up when it comes to treating ailing and endangered animals.
On the July 15 episode of Vet Gone Wild, the native Australian is off to Namibia to help an injured baboon and check in on the local cheetah population.
But first, he updates us on his own wild life.
See Also
Bobbie Jo and Jerry Abrams and their human and furry children are at the center of the network's latest series.
How did you get started in animal rescue?
Dr. Chris Brown: Growing up with a dad as a vet, I found myself performing these mini rescues from a young age. Given the number of shoeboxes I'd bring home from the schoolyard with injured birds or lizards for him to look after, I'm surprised Dad didn't develop a foot phobia. And as my feet got bigger, so did the animals I could bring home!
What were the oddest pets you had as a kid?
I raised an adorable orphaned kangaroo that would sleep in a pillowcase by my bed. But as he matured, he assumed I was competition for his ladies and started trying to box me. Getting girls as an awkward teenager is hard enough without competing with a kangaroo! The other was a sick penguin that had come ashore near my hometown. I'd hand-feed her fish and let her swim in our saltwater pool. My coaching was good enough that eventually she went back to the wild.
See Also
Animal Planet teams with popular online brand The Dodo for an inspiring new series whose first episode spotlights Campana's work.
Do you have pets now?
I have a kelpie, which is a breed of Australian farm dog, named Reg and a rescue cat called Cricket. They're both united by one thing: their confusion over Frankie, a rescued freshwater turtle I'm looking after.
Whether an animal is domesticated or in captivity, what is the most important factor in its diet?
Stick with a high-quality, complete and balanced diet and you'll have nothing to worry about.
Vet Gone Wild, Sundays, 8/7c, Animal Planet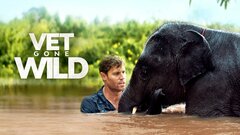 Powered by