Julie Chen Returns to 'Big Brother' Using Les Moonves' Name Again (VIDEO)
Just days after announcing her exit from The Talk, Julie Chen was back to hosting duties on CBS' Big Brother Wednesday night.
In the opening moments of the reality series, Chen — the wife of disgraced former CEO and chairman of CBS Corp. Leslie Moonves — continued to show support for her husband by tacking his last name onto hers.
"Good evening, I'm Julie Chen Moonves," she said, which marks the second time she's used his name on TV and echoed her earlier statement on September 13's episode, in which she said, "I'm Julie Chen Moonves. Goodnight."
Julie Chen-Moonves again. So she's cool with leaving The Talk for him I guess #BB20 pic.twitter.com/uGnaYdvFlB

— Duke the Duck (@DukeTheBBDuck) September 20, 2018
Moonves resigned from CBS after over 12 women came forward to accuse him of sexual harassment and assault in two separate reports by The New Yorker's Ronan Farrow.
When the first claims became public in July, Chen issued this statement: "I have known my husband, Leslie Moonves, since the mid-90s, and I have been married to him for almost 14 years. Leslie is a good man and loving father, devoted husband and inspiring corporate leader. He has always been a kind, decent and moral human being. I fully support my husband and stand by him and his statement."
Chen confirmed her departure from The Talk with a video message to fans in which she said, "I need to spend more time at home with my husband and our young son." She also thanked her co-hosts and crew for their hard work and how much she'd going to miss everyone after nine seasons.
Watch her farewell to The Talk:
Farewell ❤️❤️ pic.twitter.com/1eOCpelor1

— Julie Chen (@JulieChen) September 18, 2018
Big Brother, Wednesdays and Thursdays, 9/8c, CBS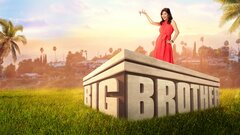 Powered by