Who Will & Who Should Win 'America's Got Talent'? (POLL)
America's Got Talent is about to crown its Season 13 winner, and there are so many great talents it's hard to imagine just one winner.
From amazing dancers and phenomenal singers to hilarious comedic acts, there's a talent for everyone, but they can't all win. We're breaking down each of the finalists, their talents, and offering a poll for fans and readers to reveal who they think will and should win America's Got Talent Season 13.
Michael Ketterer
As Simon Cowell's gold buzzer pick, Ketterer has wowed audiences with his beautiful singing. The artist's finals performance included his own rendition of the song "Ain't No Mountain High Enough."
Glennis Grace
The Netherlands native has given powerful performances each week and she didn't let fans down during finals week either. Grace blew fans away with her version of Snow Patrol's "Run."
Daniel Emmet
At 20, this opera singer has taken some of pop culture's big songs and transformed them into something new. For his finals performance, Emmet delivered an inspired version of Ed Sheeran's version of "Perfect" that featured Andrea Bocelli.
Samuel J. Comroe
This stand-up comic tackles honest topics in his routines including in his finals performance. Comroe, who has Tourette syndrome, focused his set on living with the syndrome and how he met his wife.
Shin Lim
This illusionist from Massachusetts regularly impresses the judges with his close-up magic and his finals performance was no exception. Lim took to the stage in a mystifying set including card tricks and more.
Courtney Hadwin
Howie Mandel's gold buzzer pick, 14-year-old Hadwin continuously shocks viewers with her strong performances. For her finals moment, the young singer chose to entertain with a rocking rendition of "River Deep Mountain High."
Zurcaroh
Tyra Banks' golden buzzer pic, this large group with dancers of various ages transform stage landscapes with their reality bending routines. Unsurprisingly their finals performance was just as awe-striking as their past moments.
Duo Transcend
This married couple from Salt Lake City has brought viewers to the edges of their seats with nerve-raking trapeze routines. Making the stakes even higher, the duo performed their final bit partially blind-folded.
Brian King Joseph
A violinist from Los Angeles, Joseph plays some modern-day favorites in a unique and entrancing way. During his finals performance, Joseph played his own version of Kanye West's "Heartless."
Vicki Barbolak
This stand-up comedian earns her laughs through some semi-crude routines that are coined by the term "Trailer Nasty." In her finals session, Barbolak cracked jokes about wanting to be in a swimsuit competition, and more.
So who do you think should win? Let us know in the poll below.
America's Got Talent, Season Finale, Wednesday, September 19, 8/7c, NBC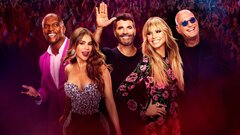 Powered by