'Star Wars Resistance': Meet the Aces That Rule the Sky (VIDEO)
Meet the Aces — the Resistance's fleet's most daring pilots in Star Wars Resistance.
We have Christopher Sean voicing Kazuda Xiono, Suzie McGrath as Tam Ryvora, Myrna Velasco as Torra Doza, Josh Brener as Neeku Vozo, with the recurring cast including Bobby Moynihan as Orka, Jim Rash as Flix, and Donald Faison as Hype Fazon.
Star Wars Resistance is a new animated adventure series which is set in a time before the events of "The Force Awakens." According to a press release the show follow, "Kazuda Xiono aka Kaz, a young pilot recruited by the Resistance's Poe Dameron and BB-8 and tasked with a top-secret mission to spy on the growing threat of the First Order."
"While undercover aboard The Colossus, a massive aircraft re-fueling platform on an outer rim water planet, Kaz works as a mechanic and lives with Poe's long-time friend Yeager – a veteran pilot who operates a starship repair shop run by his crew: Tam, Neeku and their old battered astromech droid, Bucket," the network added.
Also, expect to see stormtroopers and pirates as Kaz adventures take him on unexpected journeys where his skills are tested.
Check out the promo below:
Star Wars Resistance, Series Premiere, Sunday, October 7, 10/9c, Disney Channel and DisneyNOW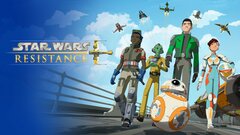 Powered by