Disney Channel's 'Star Wars Resistance' Gets a Premiere Date & Trailer (VIDEO)
Join the Resistance against the First Order in Disney Channel's new show, Star Wars Resistance.
Set to premiere Sunday, October 7, Star Wars Resistance introduces the new character Kazuda "Kaz" Xiono, a young pilot recruited by the Resistance for a mission against the First Order. Debuting stateside first, the animated series is set to expand globally on Disney Channels Worldwide.
See Also
The show will focus on Kazuda Xiono, a young pilot, with an anime-inspired style.
The one-hour premiere titled "The Recruit" will see the return of fan favorite characters Poe (voiced by live-action Star Wars star Oscar Isaac) and BB-8 as they assign Kaz his newest task.
Brought to the aircraft re-fueling platform known as Colossus on an outer rim water planet, Kaz lives with Poe's friend Yeager. As he spies on those around him, Kaz will meet many new faces such as Yeager's starship repair shop crew members Tam, Neeku, and droid Bucket.
In addition to Isaac reprising his role as Poe, Gwendoline Christie (Game of Thrones) will also return to voice Captain Phasma.
These stars will be joined by Christopher Sean (Days of Our Lives) as Kaz, Suzie McGrath (East Enders) as Tam, Scott Lawrence (Legion) as Jarek Yeager, Myrna Velasco (Elena of Avalor) as Torra Doza, Josh Brener (Silicon Valley) as Neeku, Donald Faison (Scrubs) as Hype Fazon, Jim Rash (Community) as Flix, Bobby Moynihan (DuckTales) as Orka, and Rachel Butera (Tammy's Tiny Tea Time) as General Leia Organa.
See the exciting new trailer below and make sure to catch Star Wars Resistance when it premieres on Disney Channel in October.
Star Wars Resistance, Sunday, October 7, 10/9c, Disney Channel and DisneyNOW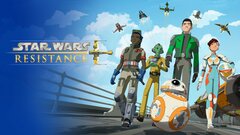 Powered by