NBC Expands 'Brooklyn Nine-Nine's Upcoming Season 6
NBC is making all of our dreams come true: we're getting more Brooklyn Nine-Nine!
The comedy series, which was saved by the peacock network after getting axed at Fox, is adding more episodes to its upcoming sixth season. How many you ask? Five more, bringing the total for the season to 18.
B99 will make its NBC debut during the midseason TV schedule.
We left off in the Season 5 finale not knowing if Captain Holt got his dream job as Police Commissioner. "Well, from the look on my face, I'm sure you can guess what it says," he said, which really isn't saying much at all.
And we saw Jake and Amy tie the knot in a last-minute ceremony after a bomb threat ruined their day.
Brooklyn Nine-Nine, Season 6 Premiere, 2019, NBC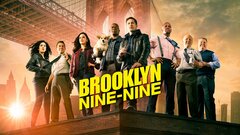 Powered by