'Fear the Walking Dead' Star Maggie Grace Teases Human Nature is the Real Enemy
Things on Fear the Walking Dead are about to heat up — literally.
For a weakened Althea, aka AI (Maggie Grace), and distraught June (Jenna Elfman), who've been separated from the rest of the apocalypse survivors in the wake of a hurricane, undead walkers may be the least of their worries.
See Also
Fashion isn't a high priority on post-apocalyptic Earth, but let's face it: everyone looks good (except for the walkers)!
On Sunday night's episode, directed by cast member Colman Domingo (the mysterious Victor Strand), food, water and medicine are in short supply. Oh, and Althea is about to be struck by an intense fever. "The cool thing with this series is that the big bad is never the zombies. It's always human nature," says Grace. "We're all just vulnerable fleshy bags of water."
Up until this point, the intrepid journalist has been a solitary force as she uses her camera to document the hellscape around her. But these dire straits could be exactly what it takes to convince AI that there's an upside to aligning herself with others. "In the past, her closest and most stable relationship has been with a SWAT van, for heaven's sake," says Grace. "Now she's at risk of caring for this group. They need her and she needs them."
Of course, allowing herself to lean on the shifty June — whose aliases include "Laura" and "Naomi" — won't be easy. "Trust is earned in this world, and June has not exactly been straight-up," Grace says. Alas, June might be all she's got, especially when AI's beloved van, possibly containing hidden medicine, is stolen. Says Grace, "That's her safe haven, and she will risk anything to stay connected to it."
AI's quest to regain that sense of safety will, inevitably, entail battling a you-know-what while impaired by her feverish state. And according to Grace, we've only begun to see this character be put to the test: "She's still got more to lose, actually, after this… believe it or not." (Listen to the full interview – free download/subscribe – on our new TV Babble Podcast via Itunes and Stitcher.
Fear the Walking Dead, Sundays, 9/8c, AMC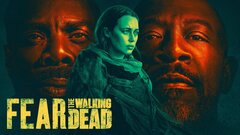 Powered by