'Younger' Finale: Hilary Duff Breaks Down Kelsey's New Gig & Her Future With Zane
[Warning: The below contains MAJOR spoilers for the Season 5 finale of Younger, "Lizability."]
TV Land's rom-com Younger wrapped up Season 5 tonight with some shocking twists for our favorite characters both in and outside of the publishing world.
Liza (Sutton Foster) is sticking around Empirical/Millennial after all, mostly because financial backer Quinn Tyler (Laura Benanti) isn't letting her go. Meanwhile, Charles (Peter Hermann) is being "put out to pasture," according to Diana (Miriam Shor), by being promoted to a chairman role that would put him out of the spotlight (good news since his leaked romance with Liza could have painted the company in a poor light).
See Also
'Younger' is almost back! Here's what you need to know about Season 5.
That, of course, leaves the role of publisher open for Kelsey (Hilary Duff) who has more than proved her worth after the success of her own imprint. And while Zane (Charles Michael Davis) might have quit, surely he won't be gone for long. Oh and before we forget, Claire (Phoebe Dynevor) is PREGNANT?! That can't be good for Josh's (Nico Tortorella) dreams of raising a loving family — or can it?
We can't wait to see where this all goes in Season 6, which yes, TV Land has already announced. Duff gives us some scoop on Kelsey's promotion and more.
First off, congrats on having another outstanding season under your belt.
Hilary Duff: Thank you so much. I loved this season. I think it was my favorite.
Have you read any scripts or do you know anything about next season's direction?
No, we don't have any scripts. They like to wait until the last minute to share anything with us. And honestly, I think it's because they don't know themselves. But sometimes we get our scripts during the table read.
Well, we do know that, during tonight's episode, Kelsey has gotten a huge promotion. How do you think she will do running the company as publisher?
I think that she's a little intimidated and feels like this is a big undertaking. But I also feel like she's been trying to be heard for a long time at that company and I think she doesn't know if it's her age or because she's a woman, but she's been constantly questioned with her choices. But she's a boss! I think she's going to step up and do a killer job. Plus, I love the addition of Quinn. She's all about female empowerment and her outlook on business and female relationships — it's pretty spot on. I think she's going to help mentor her a lot.
See Also
With the cast's musical backgrounds and the potential for some real emotional moments, this is a no-brainer!
Do you think Kelsey will rely on Charles for advice at all?
Kelsey's respectful to Charles because he had given her a lot of opportunity in the beginning, but a lot of her respect has dwindled for him. They butt heads a lot this season. Kelsey's a class act. I know she gets a little too drunk and goes a little too hard sometimes but she is smart. She's got it figured out. And I think she's lost a lot of respect for him in the way that he's handled the relationship with Liza and the business itself. Also, his not trusting her decisions when she's the one who is raking in all the cash for the company.
Right?! Every time he would be like, 'I don't know if Kelsey can run Millennial without Liza' … Liza has been important and all, but Kelsey's totally got this. The little amount of faith that she can steer the ship that she created is just crazy.
I can't tell you the amount of times where he's like giving Liza props and Kelsey's sitting there like, 'Really?' It's always like, 'Oh, Liza saved the day.' And for a lot of that, Kelsey didn't know he was in love with her. Kelsey was the one making the big decisions. So, I think she's going to finally be rewarded and I think she's going to do a great job. I love that we're going to see a lot of pressure put on her shoulders because I think young people do have a lot of pressure to deal with these days. She's not just a big talker, she's a doer. So hopefully she'll do a good job.
Now, Zane had a bit of a dramatic exit in the finale. What's the deal with them? Are we going to see him again or is he gone for good?
He looks too good to be done. He's such a good fit on our show and I think they do just have a chemical reaction to each other. I love that storyline. I do hate that he leaves the second she gets a promotion. Like, he is so weak. Well, that's just going to fuel their fire. I think that they're going to continue to hook up, but I don't know if that's going to get anymore serious.
I liked that we saw him a little more of his thoughts. He didn't come out and say how he felt about her soon enough in the beginning. The second another guy gets in the mix that she's interested in, he gets all emo about it and waits until it's too late to tell her he loves her. It's such a dude thing. Like, 'Wait, really?!' I don't think they're done, but I think Kelsey's going to learn a big lesson from this one. She doesn't make good choices in love.
Younger has already been renewed for a sixth season on TV Land.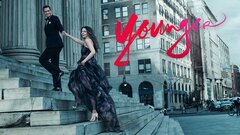 Younger
where to stream
Powered by