5 Reasons Why 'The Bold Type' Needs a Musical Episode
The ladies of The Bold Type seem to do it all: They excel at their jobs (when they're employed — we're rooting for you, Jane!), they support each other unconditionally, they wear enviable fashion with ease… they sing. Or at least they should.
A musical episode might seem like a strange choice for a show that does realism so well, but we promise, it would be a fun one. Here's why:
The Leading Ladies
Not one, not two, but all three members of the show's central trio have strong musical backgrounds that would really come in handy in a musical episode. Many a musical episode has met its downfall because of an imbalance in singing ability among the cast. This isn't a problem with the women of The Bold Type. Just look at their (abridged) resumes.
Katie Stevens
Even before she hit the small screen in MTV's Faking It, the actress behind Tiny Jane made her television debut on Season 9 of American Idol at just 16 years old. Judge Kara DioGuardi (remember her? A real 2010 TBT if we've ever heard one) sang her praises (ha! a pun!) from the very beginning, and we have to agree.
Meghann Fahy
Thought Katie was the only one with pipes? Think again. In pre-Sutton Brady days, Fahy played another girl with a complicated relationship with her mother — Natalie Goodman in the Broadway musical Next to Normal. For those of you who aren't ~fans of the theater~, that's a major part in an intense, award-winning show. And she's still singing, keeping those vocal cords warm for the musical television event of our dreams!
Aisha Dee
The Saddle Club was our first introduction to Aisha the Actor, but it was also the first time we saw her carry a tune. These days, Dee has a band called Dee Dee and the Beagles, so you know she's ready to sing with a group (might we suggest… a girl group?).
And if that's not enough proof that the cast could totally crush a musical episode, we'd like to mention that Melora Hardin and Stephen Conrad Moore (aka our faves Jacqueline and Oliver) also have backgrounds in singing. Does no one remember Jan Levinson's (Hardin) vocal stylings on The Office?
Drama-rama
If there's one thing The Bold Type doesn't skimp on, it's emotional moments. And what is singing if not an emotional release? When you can't speak, you sing. Just imagine Kat, Sutton, and Jane harmonizing about their problems. Jobs and relationships suddenly seem much more manageable when you can sing about them with your BFFs. And you just know Jacqueline has a show-stopping number in her.
The Girl Power Songs!
The Bold Type already has a pretty killer soundtrack filled with songs by female artists, and we're sure that a musical episode would be no different. There's just something special about a bunch of strong women belting out tunes by more strong women that we can't say no to.
The Dancing
Our girls definitely have some moves, and we're here for that (of course), but that's not why dancing made this list. If you loved the impromptu Alex/Pinstripe fashion show in Season 1 as much as we did, you're probably also dying for the guys of The Bold Type to let loose and be silly again. Or, with the way Jane's love triangle with Pinstripe and Dr. Ben is shaping up, their dancing could get a little high-stakes. A dance battle for Jane's heart? We're into it.
Two words: Karaoke bar
OK, so maybe we haven't sold you on an all-out Grey's Anatomy–style musical episode where characters just break into song willy-nilly. We think it would be great, but we hear you. And we'd be just as happy with an episode where the cast goes to a karaoke bar and lets out all of the emotions of the episode. It seems like a legitimate possibility with the number of times the girls go out for a drink per episode (high), and a loud, overly dramatic rendition of some classic girl group song ("Wannabe," anyone?) feels very on-brand for the women of The Bold Type.
In case you're still not convinced, we'll leave you with the cast singing karaoke IRL as a little taste of what could be. ENJOY.
The Bold Type, Tuesdays, 8/7c, Freeform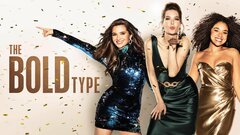 Powered by