'Bachelor in Paradise' Episode 5: Old Favorites Are Back (RECAP)
[SPOILER ALERT: This recap features spoilers from Season 5, Episode 5 of Bachelor in Paradise.]
After Monday night gave us an evening of drama, we're ready for something a little lighter this time around on Bachelor in Paradise and on Tuesday night's episode, that's exactly what ABC gave us.
As per BIP tradition, tons of old favorites returned to the beach even if they weren't there to find love, as we we continue to hope that Jordan somehow gets it together.
See Also
Yep, it finally happened!
Here's what you missed on Bachelor in Paradise:
Hey Leo!
Leo is here and he's a babe magnet, y'all.
As soon as the stuntman arrived, Jenna was all about him, despite her growing connection with Jordan. She showed him her tattoo, and from that point, it seemed like it was on.
Next up was Krystal, who was chatting him up while on a float until Chelsea interrupted them so she'd have the chance to grab his attention. Leo's a hot commodity!
See Also
The next season begins production in September.
But in the end, it was Kendall who Leo decided to ask out on a date despite how serious she's been with Joe. And he wasn't at all thrilled with her choice. How could anyone leave Grocery Joe for another man?!
A Bonkers Date
Considering the fact that Leo looks like he'd model for the covers of romance novels, it only seemed appropriate that he and Kendall pose for one as their date — and Jorge (yes, the bartender) was the photographer and apparent author of this book.
"I need a drink. Have a terrible time."
It was already awkward so…#BachelorInParadise pic.twitter.com/0DOf3kfGwn

— Bachelor in Paradise (@BachParadise) August 22, 2018
And because this is Bachelor in Paradise, of course the other stars of Jorge's book were Arie Luyendyk Jr., Amanda Stanton, Ben Higgins, and Lauren Burnham. Because why not?
But when they got back, Leo just kept playing the field. Meanwhile, Kendall was having a mental breakdown about who she cared about more: Leo or Joe.
Officially A Thing
Colton gets a date card! #BachelorInParadise pic.twitter.com/1ge8mxCZqN

— Bachelor in Paradise (@BachParadise) August 22, 2018
Yes, this is Tia and Colton's second BIP date, but the first where they were both actually on the same page in their relationship.
They went out to a market and just so happen to run into Raven and her boyfriend, Adam, because producers.
However, it turned into yet another serious moment for Tia because Raven pulled her aside to let her know she didn't think Colton had the best of intentions.
See Also
The reality star said she started to panic during the prank.
That led to a lot of tears and then a conversation between Colton and Tia about where they stand. Again on this roller coaster?!
Everything seems copacetic (so far) but knowing these two, that could change at any moment. In fact, by the end of the date, Colton declared that Tia was his girlfriend, so there's that.
Montreal In Mexico
Ooh la la, indeed!#BachelorInParadise pic.twitter.com/mdHFqAnXhz

— Bachelor in Paradise (@BachParadise) August 22, 2018
Bonjour, Benoit! He's the guy from Bachelor Winter Games who was briefly engaged to Clare Crawley.
Well, the Canadian rolled up and everything changed, especially for Jenna, who was already having her doubts about Jordan.
After getting some advice from the guys (and accidentally calling Krystal another name AKA Kendall), Benoit ended up asking Jenna on a date, which royally pissed Jordan off once again.
And in case you were wondering, Benoit and Jenna totally hit it off. But after she got back from her date, Jordan was waiting.
He wanted to apologize for his angry outburst and much to his surprise, it was too little too late. Jenna had to admit that she's really feeling something with Benoit.
Is this the end for them? Guess we'll have to wait 'til next week to find out.
Bachelor in Paradise, Mondays & Tuesdays, 8/7c, ABC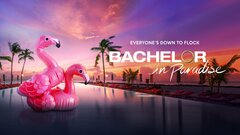 Powered by