'Bachelor in Paradise' Episode 4: A Relationship Blossoms (RECAP)
[SPOILER ALERT: This recap features spoilers from Season 5, Episode 4 of Bachelor in Paradise.]
Well, we're four episodes into Bachelor in Paradise, and we have our first love triangle — if you can even call it that.
It involves Chris, Krystal, and Tia… yet somehow Colton is still in the mix. So maybe it's more of a love square? Either way, it's causing a lot of drama.
See Also
Which means someone always gets hurt.
Plus, a few new people arrived in paradise, which only upped the ante and created even more tension between Colton and Tia. How does this keep becoming the Colton and Tia show? Maybe this week we'll finally find out.
Here's what you missed on Bachelor in Paradise:
Tia Vs. Chris
Four words that rarely bode well. #BachelorInParadise pic.twitter.com/JnLQZUGQ2W

— Bachelor in Paradise (@BachParadise) August 21, 2018
Wasting absolutely no time from where we left off last week, Tia immediately confronted Chris about kissing Krystal, and he acted like he was totally innocent. Um, what?
Then, Krystal joined in on the conversation — sipping her margarita and at a loss for words — which is definitely a first for her.
It was kind of insane how Chris kept trying to gaslight both of them, especially when Tia let him know she's done with him, he actually said, "Thank God."
Krystal was temporarily happy until it hit her that this friction ruined the romantic spark she felt for Chris when they first kissed.
Jacqueline Arrives
Languishing with languages?#BachelorInParadise pic.twitter.com/ou9j7wOSpF

— Bachelor in Paradise (@BachParadise) August 21, 2018
Jacqueline is from Arie's season of The Bachelor and everyone is pumped about it especially Kendall, because they're BFFs. Immediately Jenna suggested that she get to know Colton better… is she trying to stir things up again?
As soon as she pulled him aside, Tia immediately started crying and stepped into a tent to gather her feelings. Can we just give her a hug?!
To Colton's credit, he did let Jacqueline know from the start that his situation was complicated — to say the least.
Colton Reconciles With Tia
After hearing that Jaqueline was interested, Colton knew he needed to talk to Tia — FINALLY!
Being that they've both cried at least half a dozen times since the season began, obviously, this conversation didn't get very far.
See Also
They get a second chance at love.
Jacqueline & Kenny
Somehow, Kenny is still single in paradise and this makes no sense. So it was good to see he and Jacqueline out together, talking about their experiences traveling and growing up, and they seemed to really connect.
Unfortunately when they got back, Annaliese made a beeline for Kenny, because she was convinced she would not be getting a rose since she hadn't been able to progress her relationship with anyone.
They ended the night making out, so… sorry Jacqueline?
Everyone's Over It
Wow Colton and tia are gonna "give it a go" #BachelorInParadise pic.twitter.com/DJTB4vO66g

— Bachelor Chirps, MBA (@BachelorChirps) August 21, 2018
Colton and Tia are getting on everyone's nerves but Bibiana still took Colton aside to let him know that he doesn't need to let a good thing go aka a potential relationship.
So yet again, Colton and Tia try to talk through it but this time, things were different.
Colton decided that he was ready to go full throttle into z relationship. Will he regret it? Maybe so, but for now, Tia's thrilled.
The Rose Ceremony
This might be my favorite @BachParadise moment ever. Drag him, Jordan.#BachelorInParadise pic.twitter.com/DrRGdGN6yS

— Jeff D Lowe (Not Tiger King Guy) (@JeffDLowe) August 21, 2018
There's no way a rose ceremony could be entirely uneventful, right?
For some reason, Jordan felt the need to call out Jubilee and Chelsea for not being ready for a relationship, all because of David, yet again.
Eric and Annaliese immediately scolded Jordan for that kind of behavior, but the male model still didn't really see the error of his ways.
See Also
The next season begins production in September.
Finally, it came time to hand out the roses, which was a pretty big deal, because it meant that four of the women were going home. Unfortunately, this time, that meant that Jacqueline, Bibiana, Caroline, and Nysha had to say their goodbyes.
However, there's literally no time to be upset about this, because according to the promo, Tuesday's episode is going to be wild, with Ben Higgins screaming about how unlovable he is on the beach.
Same time, same place tomorrow night? See ya there.
Bachelor in Paradise, Mondays & Tuesdays, 8/7c, ABC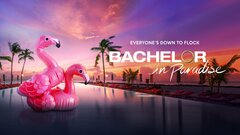 Powered by