'Bachelor in Paradise' Episode 3: Love Triangles Galore (RECAP)
[SPOILER ALERT: This recap features spoilers from Season 5, Episode 3 of Bachelor in Paradise.]
There have been dates, a rose ceremony, and definitely plenty of tears which means Bachelor in Paradise Season 5 is in full swing.
After Becca Kufrin made a surprise appearance on Monday night's episode, things got a little awkward for Colton… but what is that going to mean for Tia — his will they, won't they love interest?
See Also
While another contestant bursts into tears.
And when a new contestant arrived on Tuesday night's episode, the dynamic totally changed. Should the women be scared? Guess we're going to find out.
Here's what you missed on Bachelor in Paradise:
Colton Gets Closure
Hey, Colton, you've trended in the United States for the first two episodes! #BachelorInParadise pic.twitter.com/MZdFjp6v0A

— Bachelor in Paradise (@BachParadise) August 15, 2018
When we last left off, Colton was in straight up tears at the thought of Becca being in paradise because he realized he wasn't over her yet.
Which of course meant that they just had to sit and talk things out. Becca listened but was kind of bewildered by the fact that his feelings were still that strong, especially with Tia in the mix.
The former Bachelorette also encouraged Colton to use their reunion as a "kick in the ass." He needs to figure out what to do in order to find love in paradise, and Colton seemed to feel better after talking to her.
Is this the end of his tears this season? Probably not, but we can hope.
See Also
They get a second chance at love.
Jordan's A Hot Commodity
We totally didn't see this coming because (as we all remember) this is the male model who sported golden underwear on The Bachelorette, but it is indeed happening.
Jordan arrived head over heels for Annaliese (before he even met her) but as soon as Jenna showed up and beelined for him, all bets were off.
Totally portfolio worthy. #BachelorInParadise pic.twitter.com/5RIuVluLrR

— Bachelor in Paradise (@BachParadise) August 15, 2018
Jenna and Jordan went on their first date — riding horses on the beach, of course — and there was definitely chemistry.
Poor Annaliese was pretty bummed about it too but to Jordan's credit, he told Annaliese exactly what was up and was 100% honest with her, but still that hurts!
David Vs. Jordan Continues
After witnessing that messy beach make out between Jordan and Jenna, it seemed like they were a done deal as a couple — but then, there was David.
It was Jenna's birthday, so he brought her dessert and promised to have birthday fun with her, all while Jordan was sitting next to her… stewing about it.
All is fair in love and war.
See Also
The newly engaged couple on where they stand now.
Caroline Arrives
Jenna wasn't the only new addition this episode as Caroline also made her appearance!
She decided to take John out on her first date which was a pretty sweet choice, considering he's an awesome guy. And, you know, the Venmo business definitely helps.
Their date seemed to go really well, and a band even showed up to play for them over dinner. Kind of adorable, right?
All is fair on #BachelorInParadise. pic.twitter.com/3zT6mOa8Wh

— Bachelor in Paradise (@BachParadise) August 15, 2018
But just as things were clicking, Jubilee showed up and immediately asked John to go on a date with her. He said yes — right in front of Caroline — and they went ziplining together and had a blast. Uh oh, Caroline…
Other Relationship Drama
Exhibit A: Chris moving in on Krystal just as Krystal was getting along really well with Kenny (an actual angel). All while Tia was finally started to think that Chris was better for her than Colton.
Exhibit B: Chris immediately telling the guys that he fibbed to Krystal about never kissing blonde. How old are we??
Exhibit C: Colton talked to Tia and let her know that Chris was going to let her down by hooking up with Krystal. So how's that for a turn of events?!
One thing's for sure, Monday night's new episode is about to be all kinds of disasters for Chris if he keeps planning to go on multiple dates with all these women in one night. We can't wait.
Bachelor in Paradise, Mondays & Tuesdays, 8/7c, ABC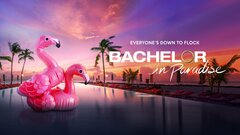 Powered by