'Veep' Returns to Filming After Julia Louis-Dreyfus' Cancer Treatment — Go Behind the Scenes (PHOTOS)
Julia Louis-Dreyfus is back to work as Selina Meyer on the seventh and final season of the HBO comedy Veep.
The Emmy winner, along with the rest of the cast and crew, have been sharing photos on social media of everyone getting back into character. This season is especially special for Louis-Dreyfus — the actress only recently ended her treatment for breast cancer.
"I really appreciate everyone coming back and working it out to come back. I'm very grateful. Thank you very much. Love you guys," Louis-Dreyfus said in an Instagram video. "Season seven!"
She captioned the photo: "Before the first shot of season 7 of @veephbo. So deeply grateful to be back together with all these superb people."
Veep's sixth season ended in 2017, and the series went on hiatus while Louis-Dreyfus battled the disease.
"One in eight women get breast cancer. Today, I'm the one," she wrote about her diagnosis in September 2017. "The good news is that I have the most glorious group of supportive and caring family and friends, and fantastic insurance through my union. The bad news is that not all women are so lucky, so let's fight all cancers and make universal health care a reality."
Just when you thought… pic.twitter.com/SbtYChwiEj

— Julia Louis-Dreyfus (@OfficialJLD) September 28, 2017
In February, she underwent surgery and updated fans about her progress: "Hoorah! Great doctors, great results, feeling happy and ready to rock after surgery. Hey cancer, "F**k you!" she wrote on Twitter.
Fast forward to August 15, and everyone's ready to rock 'n' roll. Executive producer David Mandel posted some behind-the-scenes images of fellow cast members Tony Hale, Reid Scott, Anna Chlumsky, and Timothy Simons back to work.
#take1 #veep #firstdayofshooting @veephbo pic.twitter.com/pcQp8Lak5b

— David Mandel (@DavidHMandel) August 15, 2018
.@officialjld got our first day of shooting going with a lovely speech. SEASON 7!! #finalseason #veep #setlife pic.twitter.com/Vmh6x1nr64

— Veep (@VeepHBO) August 16, 2018
First day of shooting for Season 7! @mrreidscott @AnnaChlumsky #veep #finalseason #setlife pic.twitter.com/YcVnATEkFq

— Veep (@VeepHBO) August 15, 2018
#veep #firstdayofshooting #amyanddan #Damy @mrreidscott @AnnaChlumsky @veephbo pic.twitter.com/zrpABLYwK1

— David Mandel (@DavidHMandel) August 15, 2018
We're back. Fixing things. @VeepHBO @MrTonyHale pic.twitter.com/LNZjcnuz6d

— Julia Louis-Dreyfus (@OfficialJLD) August 15, 2018
Veep, Season 7, Spring 2019, HBO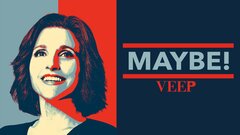 Veep
where to stream
Powered by