'Alaskan Bush People' Is Not Canceled Because It Will Outlive Us All
As much as it pains me, I must give Radar Online their due.
The news-ish organization that usually gives us compelling Alaskan Bush People content like this…
The youngest Brown looks unrecognizable. https://t.co/o8Mo0dJU3w

— Radar Online (@radar_online) April 22, 2018
…did some journalism and got a real statement from a real executive at Discovery Channel:
Exclusive: #AlaskanBush season premiere delayed due to "health issues" and extreme weather. https://t.co/dg3H4FKLLo

— Radar Online (@radar_online) April 24, 2018
Executive Vice President of Public Relations for Discovery Laurie Goldberg addressed the rumors of Alaskan Bush People's cancellation to the outlet. Since there's often a great disparity between the truth and the truth as issued in a statement from a PR executive, let's analyze Goldberg's comments.
"The rumors of the cancellation of Alaskan Bush People are totally fabricated and completely untrue"
True! The show is not canceled. In fact, I am convinced this show will never be canceled. If PFD fraud and widespread traveshamockery can't even kill it, I'm not sure what can.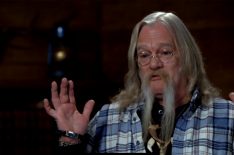 See Also
The Discovery Channel show's new season has been delayed, and we have some theories on why.
This show will go on and on and on long after I've given up the ghost. My children and my children's children will be writing stupid jokes about Gabe's children and their children's children in Alaskan Bush People Season 36ish.
"First of all, this has been the longest winter in the region where the upcoming season is being filmed."
I can buy that. This spring absolutely sucked for most of the country. I was plowing snow when I should've been planting seeds.
Still, it seems to me that the Browns and their 30-plus years of surviving off the land in the harsh and unforgiving terrain of the Alaskan frontier should be able to easily handle even the most EXXXXTREME winter that Loomis and Lake Flaccid can throw at them. [Update: That area received a whopping .79 inches of precipitation in a single day in January! WORST WINTER EVER!] The Browns have traded surviving off the grid for surviving off Walmart, Panda Express, Instagram, and the undying devotion of the barely lucid.
"It is incredibly remote and all of the access roads to the area are closed. It really has been the worst winter ever."
It seems like ages ago, but there was once a time when they told us Brownton Abbey on Chicago Bears Island was accessible only by boat. There were no access roads then, so why are roads so critical to the production now? What happened to Bush Ingenuity?

Is this the same family that transported a trebuchet, a cow, and an entire rotting wooden shack to their remote homestead deep in the Alaskan Bush without the aid of access roads? I will refer you again to Walmart, Panda Express, Instagram, etc.
"We are filming for the new season as we speak."
Bravo! [Sarcastic clapping] Cameras are rolling again, and all it took was the gathering storm of Book of Hines to light a fire under their butts.
"Secondly, there have been severe health issues with several members of the Brown family. Noah had emergency gallbladder surgery and Gabe has had an awful flu-like illness for weeks."
Serious health issues? More serious than Stage 4 lung cancer? More serious than Matt almost blasting his skull open? More serious than Billy Brown Syndrome? I do not believe that production shut down completely because Gabe had the sniffles. And Noah, who was in Idaho and wasn't even involved in filming at the time of his gallbladder surgery, was back on his feet soon after and berating supermarket employees for their lack of prime rib.
"Basically every single element that could possibly work against the Brown family and the production of the show has been."
That answer is open-ended as hell. Think about it: "Every single element that could possibly work against the Brown family." Meteorites? Russian hackers? Man-eating snakes? Prime rib shortages? (I'll accept additional possibilities in the comments.) All of these are possible elements that have worked against the Browns.
See Also
The Discovery Channel show is filming its eighth season in a new, unexpected place
The elements that are most likely to be causing production delays, however, include family infighting, laziness, Billy's despotic rule over the story and production, and whatever stuff Matt is doing in that camper.
"But Billy, Ami and all of their children are incredibly excited to be filming for the new season right now, as are we at Discovery."
I can only interpret this as "Billy, Ami and all of their children are incredibly excited to be making money, as are we at Discovery."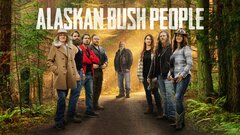 Powered by