'Krypton's Camerons Cuffe & Welsh on Season 1's Biggest Surprise & the Dawn of 'Doomsday Unleashed' (VIDEO)
The clock is ticking down until Krypton heads back into production for Season 2 and according to Camerons Cuffe (who plays Seg) and Welsh (the showrunner), there are gonna be more villains than the grandfather of Superman may know what to do with!
During their time at Comic-Con International in San Diego last month, the guys swung by the TV Insider-TV Guide Magazine Studio for a photo shoot and sit-down chat. There, they opened up about the future of Cuffe's character now that he's trapped in the Phantom Zone with baddie Brainiac (Blake Ritson).
See Also
Plus, are any New Gods arriving soon?
In addition, Welsh offered some insight into how General Zod (Colin Salmon) will justify his takeover of the planet in the first season finale.
Watch the full interview below and be sure to pay attention at 1:42 where I mention which villains are heading for the show. Things get cagey because we knew that Welsh was planning to announce the arrival of DC Comics' Lobo, but had to keep it confidential until their panel later that weekend. Hence the hesitation.
There is no word on when Season 2 will debut, but it's likely we'll see some news about that after the new year.
Krypton, Season 2, Coming Soon, Syfy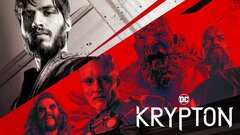 Krypton
where to stream
Powered by