'Krypton' Showrunner Cameron Welsh Reveals Season 2 Details
Seg (Cameron Cuffe) is in space prison, Nyssa (Wallis Day) isn't who she thought she was and something very big and bad just broke out of captivity.
While we hold out for a hero, showrunner and executive producer Cameron Welsh gives us a tease of Krypton's next Nova Cycle.
Who will bring the pain in Season 2?
Cameron Welsh: Along with General Zod (Colin Salmon) and Doomsday — the killing machine last seen breaking out of his cryo-chamber — Welsh says Brainiac (Blake Ritson) is still a threat, especially to Seg, now that they're both trapped in the Phantom Zone prison dimension. "It would be interesting to see them forced to work together to escape," Welsh says.
See Also
Super screw-ups, courtesy of the doomed planet's all-stars.
Nyssa is a clone?!
Welsh was surprised fans didn't suspect the twist that Nyssa was actually a cloned version of the youngest Vex daughter. "I've always referenced John Byrne's [Superman sourcebook] The World of Krypton, and that's all about clones!" So expect Black Zero terror group leader Jax-Ur (Hannah Waddingham) and her body-harvesting experiment to be further explored next year. "I loved that story and particularly the way that clones were used," Welsh says. "There's something so disturbing about that idea."
What's up with Dev's mecha-arm?
"I'm not quite sure where that's going yet," admits Welsh of the replacement limb Dev (Aaron Pierre) received after his fiancée, Lyta (Georgina Campbell), blasted his arm off while he was under Brainiac's control. "There's a PTSD kind of potential story there; we want to see what it does to his psyche."
See Also
The British actor is ready to do right by the House of El.
Are the New Gods coming to Krypton?
Welsh wishes! Despite multiple mentions of Cygnus 4019 as Brainiac's next target, there are no plans to introduce the planet or DC Comics' New Gods of Apokolips. "I would absolutely love to, but no," he says, noting that those characters are headed to the big screen instead for a New Gods feature being directed by Ava DuVernay (A Wrinkle in Time).
For more exclusive content from your favorite shows like Arrow, Supergirl, and more, pick up TV Guide Magazine's Special Comic-Con Issue, on sale now. It's an all-access SUPERFAN guide with 88 pages of behind-the scenes photos, scoops, and interviews .
Krypton, Returns 2019, SYFY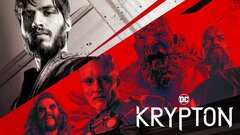 Krypton
where to stream
Powered by