'Krypton' Drops Hilarious Season 1 Blooper Reel at Comic-Con 2018 (VIDEO)
It's nice to know that even the ancestors of our greatest superhero flub their lines now and then.
During Krypton's second appearance at Comic-Con 2018 in San Diego, cast members Cameron Cuffe (Seg-El), Shaun Sipos (Adam Strange), Ann Ogbomo (Jayna-Zod), and Wallis Day (Nyssa-Vex) joined showrunner Cam Welsh for a panel that looked back at the SYFY drama's smashing first season, while setting up a few teases about what's coming next.
See Also
The series comes from the mind of 'Game of Thrones' writer George R.R. Martin.
In between explaining what we may see from Doomsday and Seg's stint in the Phantom Zone with Brainiac (Blake Ritson), Welsh announced that DC Comics character Lobo would be popping up. He also implied that perhaps not every character we have met so far will survive Season 2.
In addition, and on a much lighter note, the crowd also got the Holy Grail of behind-the-scenes goodness — the season's blooper reel! Lucky for you, we were able to snag the clip for you exclusively.
Enjoy the (slightly NSFW) collection of blown lines below:
Krypton, Returns 2019, SYFY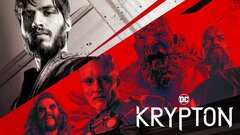 Krypton
where to stream
Powered by