'Grey's Anatomy' Star Kim Raver on Pregnant Teddy's Love Triangle & 'Third Watch' Revival Chances
After an absence of about five years, Dr. Teddy Altman, played by Kim Raver, made a surprise return to Grey Sloan Memorial in the Season 14 finale of Grey's Anatomy – just in time to help Dr. Miranda Bailey (Chandra Wilson) save a life.
Teddy, who we learned in the finale is expecting a baby (!), also helped save Miranda's life, metaphorically, by accepting Miranda's invitation to take over temporarily as Chief of Surgery while she focuses on other parts of her life. We don't know if Dr. Owen Hunt (Kevin McKidd) is the father or not (courtesy of an overseas visit he made to Teddy), but if he is, it's going to throw a wrench into the already-complicated dynamic between Owen and ex Amelia (Caterina Scorsone).
See Also
The actress is taking a break from her duties as Dr. Miranda Bailey on the medical drama.
TV Insider caught up with Raver at the ABC TV Critics Association press party earlier this month. Read on to get her thoughts on returning to Grey's, who she credits for becoming a director, and whether or not she'd partake in a revival of one of her first big series — Third Watch.
We know spoilers on Grey's are verboten, but what can you say about Teddy's return this season?
Kim Raver: I can say that it's a love season. That's going to be a theme. There's definitely a lot of love going on in different ways, starting with Teddy, Owen, and Amelia. It's going to be a different kind of love triangle, not typical. [Executive producer] Krista Vernoff and her writing staff have done such a brilliant job. They've talked me through it a little bit. It's going to be an incredible season. Krista has really infused the show where there's both comedy and drama in it. This season is definitely going to have a lot of comedy.
See Also
We still have a ton of questions that will nag at us all hiatus long… starting with that bun in the oven!
What's it like to be back on the show?
It's interesting. In between the time I left the show and now, I moved to London because 24 had come back. I got to go do the reboot of that, which was incredible. It's interesting to come back now to two shows. Both are near and dear to my heart. I also hold Third Watch in a special place as it was one of the first shows I did.
Whether he's the father of Teddy's baby or not, we know that Owen loves being a dad. Does Teddy being pregnant give her an advantage in a love triangle with him and Amelia?
I hadn't thought about it that way. Maybe. I was talking to the writers about this and I don't want it to be a catty triangle. In some triangles, women go at it [against one another] over a man. It's 2018, and I'm all for supporting other women. I don't think this will be about the writers pitting [Teddy and Amelia] against each other.
How far along is Teddy?
She's at the beginning of her pregnancy.
So, a myriad of things could happen.
[Smiles] Yes.
Are you comfortable with saying Teddy's medical jargon?
As soon as I understand what I'm saying, it's good. If I don't know what's happening then I'm just memorizing words that I don't understand. It's definitely a different language and, also, what your hands are doing in the operating room is a different language, too.
What's it like being a director the Lifetime movie, Tempting Fate, which you're also executive producing?
I feel like my directing is all thanks to Shonda [Rhimes, creator/executive producer], Betsy [Beers, executive producer], and Krista. It may be different for a younger generation now, but I didn't get to see a lot of women directors when I was starting out. Now, at Shondaland, I can see women directors, women editors…when you get to see people doing what you want to do it makes you say, 'I can do this, too.' There's not a direct connection between Shondaland and the movie I directed, but I've seen great examples of women directors on her shows.
You may not have time if it were to happen but would you partake in a revival of Third Watch?
I've never thought about that. I do feel that Third Watch is one of the best shows that ever told the stories of paramedics, firefighters, and police officers. [Smiling] Now, they're done as separate shows, but I love John Wells [who created Third Watch] and that company. So, yes, if that show ever came back, my answer would be yes!
Grey's Anatomy, Season 15 Premiere, Thursday, September 27, 8/7c, ABC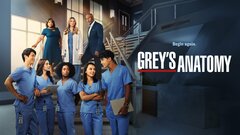 Powered by