'Teachers' Midseason Finale Pays Homage to Katie O'Brien & Caitlin Barlow's True Crime Obsession
Teachers do (and say) the darndest things.
That's what Katie O'Brien, who plays Mary Louise Bennigan, and Caitlin Barlow, who plays Cecilia Cannon, love about their TV Land comedy series, Teachers. Besides acting, these women also write and produce this hilarious series about the ups and downs of those who mold the minds of our next generation.
"What's really cool about our show is that it's our voice and no one really tells us no very often," O'Brien told TV Insider ahead of the Season 3 midseason finale. "It's definitely a very collaborate process. You have a lot of opinions and a lot of voices, so we vote on everything and majority always rules. And we just trust each other."
See Also
The hilarious and outrageous comedy returns to TV Land June 5.
As for what fans can expect from the remaining episodes, Barlow loves pushing her on-screen alter ego to extremes. "It's a cool challenge to continue to go deeper with the characters," she said.
Check out the interview below:
What can fans expect from the midseason finale?
Katie O'Brien: There's a huge surprise at the end of the episode. Something I think fans will be excited by and something has fans have been waiting to see. Also, we're such big true crime fans so this episode was kinds our homage to true crime so there is serial killer on the loose. It's a really fun episode.
Caitlin Barlow: We're all pretty big pop culture junkies so usually the first 20 minutes of our writers room is spent talking about the latest episode of The Bachelor or the latest true crime murder novel. It's cool because we get to write about stuff we're excited about.
What type of scenarios do the teachers find themselves in rest of Season 3?
O'Brien: I love putting my character in a bizarre situation that a normal person wouldn't find themselves in. In the second half of Season 3, our characters find themselves with a bear and it's a real, live bear. He's 900 pounds and 8 feet tall and our teachers are interacting with a grizzly bear. It's actually our take on gun control.
Barlow: The nice thing about Season 3 is that we can do a lot of ideas that we maybe couldn't do in Season 1 because it was too early. For the longest time we wanted to do an episode on gun control but we weren't really sure how to do it… so we decided to have a grizzly bear move in across the street from the school and the teachers are really concerned and wonder if it's safe.
Can you tease any future guest stars?
O'Brien: We have Tom Lennon coming in. We also have David Wayne coming back as Pastor Ted. And you meet Ms. Bennigan's parents and Bennigan's grandma who is Cloris Leachman. There's a lot of really cool, really fun people coming up in the second half of Season 3.
Any series 'ships news?
Barlow: You're going to see how Hot Dad (Ryan Caltagirone) and Ms. Bennigan's relationship progresses. Also how Toby (Tim Bagley) and Miss Watson's (Kate Watson) relationship progresses and in the second half of the third season. Ms. Snap (Katy Colloton) will meet someone. I definitely think it's someone people won't expect!
Any shows you'd love to cross over with?
Barlow: I'd love to do a crossover with Broad City.
What about a dream guest star?
Barlow: I have a huge crush on Ali Wong and would love to have her on the show. Amy Poehler, Kristin Wiig… any of the amazing female comedians who have come before us.
Teachers, Midseason Finale, Tuesday, August 14, 10:30/9:30c, TV Land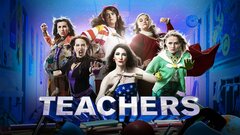 Powered by