Mark Hamill Joins History's 'Knightfall' for Renewed Second Season
Star Wars veteran Mark Hamill is returning to television in the newly renewed second season of the History Channel's Knightfall.
The Knights Templar historical fiction drama series, which goes "inside the medieval politics and warfare of the Knights Templar, the most powerful, wealthy and mysterious military order of the Middle Ages who were entrusted with protecting Christianity's most precious relics," will also have a fresh showrunner and executive producer in Aaron Helbing (The Flash).
Eli Lehrer, Executive Vice President of Programming, HISTORY, released a statement about the exciting news: "In the face of ever-increasing competition, we're proud of HISTORY's track record of producing signature drama series that are epic in scope with complex characters.
See Also
'Landry's whole life is turned on its head,' says actor Tom Cullen.
"Whether it's the legendary Knights Templar, the extraordinary tale of medieval Norsemen, or the story of a formerly classified United States Air Force program investigating UFOs during the Cold War, these series reflect our commitment to bringing the defining, big canvas stories of history to life. We look forward to offering our viewers a grittier, darker Knightfall in season two and welcoming Mark to the cast."
Hamill will play Talus, "a battle-hardened Knight Templar veteran of the Crusades, who survived captivity for ten years in the Holy Land and is tasked with training the new initiates to the Order," according to a press release.
His most recent TV appearance was on The Big Bang Theory's season finale. He played and officiated the wedding of Sheldon (Jim Parsons) and Amy (Mayim Bialik).
Season 2 is also welcoming Tom Forbes (The Bastard Executioner) as "Prince Louis the violent and unpredictable son of King Philip and heir to the throne," and Genevieve Gaunt (The Royals) as Isabella, the daughter of King Philip and well on her way to becoming the woman who history would call 'the she-wolf of France.'"
Series star Tom Cullen will be returning as Landry du Lauzon, who is part of the Knights Templar and Crusades veteran.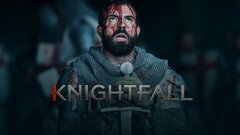 Powered by