WWE Legend Jim 'The Anvil' Neidhart Passes Away
The pro wrestling world is mourning the loss of Jim "The Anvil" Neidhart.
WWE confirmed the passing of the legendary performer on Monday at age 63. Social media has been pouring in with old photos, memories and condolences from fans, friends and family alike.
Stunned and saddened. I just don't have the words right now. pic.twitter.com/fcO8Skuuhz

— Bret Hart (@BretHart) August 13, 2018
WWE is saddened to learn that Jim "The Anvil" Neidhart has passed away. https://t.co/Isxv3ElA3Y

— WWE (@WWE) August 13, 2018
Neidhart is perhaps best known around the world for his tag team championship run with brother-in-law Bret Hart in the Hart Foundation, which led to two reigns with the gold. This "pink and black" attack was a force within the division throughout the mid-1980s leading into the 1990s. They had standout matches against top teams including the British Bulldogs and Demolition.
Later in his career, he formed the New Foundation with the late Owen Hart. And then, in 1997, the whole family of wrestlers came together to form a new incarnation of the Hart Foundation with Bret as the leader.
My Good Friend Jim Neidhart, A World Class Athlete And A Man Among Men. Rest In Peace. pic.twitter.com/JSmdpZ9YZ1

— Ric Flair® (@RicFlairNatrBoy) August 13, 2018
Neidhart trained out of Stu Hart's famous Hart Family Dungeon. He came from a football background, playing preseason and practice ball for the Oakland Raiders and Dallas Cowboys. The imposing athlete also held records in high school for shot put. Neidhart continued to build a name for himself in Japan and in the United States working in promotions such as Mid-South Wrestling.
Jim Neidhart was a great athlete
He was the power & strength of
The Hart Foundation
I loved their finishing maneuver
Celebrate his life
Watch his matches today
My heart hurts for his daughters, wife & @TJWilson
There is only one#Anvil pic.twitter.com/pFvfDHtN8S

— Tommy Dreamer (@THETOMMYDREAMER) August 13, 2018
R.I.P. Jim "The Anvil" Neidhart. My heartfelt condolences to his family. Jim stood out in a unique world with one of a kind personalities.

— Bruce Prichard (@bruceprichard) August 13, 2018
He married Elizabeth "Ellie" Hart. The couple had three children including current WWE Raw superstar Natalya. Neidhart and the rest of the loveably eccentric can be seen recently on episodes of Total Divas on E! Network. Natalya pays tribute to her family roots often in the ring and with the pink and black color scheme.
ONE OF MY OLDEST FRIENDS IN THE BUSINESS JIM NEIDHART. WE TRAVEL TOGETHER I LOVE HIM FOREVER LIKE A BROTHER. GOD BLESS FAMILY I NEVER FORGET YOU BUBBA. pic.twitter.com/lt1dE8QOvt

— The Iron Sheik (@the_ironsheik) August 13, 2018
Sorry to hear about Jim Neidhart. Love and sympathies to @NatbyNature and the rest of the Neidhart/Hart family. So sad that everyone in this picture but Bret has now gone. #RIPAnvil pic.twitter.com/0buoDHYsQU

— Tom Phillips (@TheTomPhillips) August 13, 2018
Sadly, this is just the latest death within the Hart family. Neidhart's battles with his demons have been documented over the years. However, when the bell rang and cameras were on, Neidhart immediately stood out. He was built like an anvil, always tugging at his trademark goatee, and had an unmistakable laugh. Then, there was his athletic ability, which enabled him to perform exciting moves that were revolutionary in the 1980s, especially for a man his size.
The legacy of Neidhart will live on every time Natalya enters the ring and the hours of his career that can be found on the WWE Network.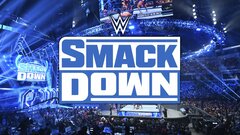 Powered by