TV Babble Podcast: Alison Brie on Breakdancing in 'GLOW;' Last Call for Summer Binge-Watching
This episode of our new TV Babble podcast dives into the world of Emmy nominations, female wrestling, and how to possibly choose which shows to binge during the dog days of summer.
In our first official episode of the podcast, brought to you by the folks from TV Guide Magazine and TV Insider, actress Alison Brie joined TV Guide Magazine's Jim Halterman at the Paley Center for Media in Beverly Hills to talk about the second season of critically-acclaimed Netflix comedy GLOW, which picked up Emmy nods shortly after this conversation took place.
Brie also discusses her chance to breakdance in the new season, as well as which iconic music star who first rose to fame in the 1980s will be heard.
See Also
We made a podcast! Find out more and listen to our first trio of episodes.
Also, our staff roundtable gives their recommendations for what to watch before the busy fall TV season kicks in next month and TV Guide Magazine's Matt Roush gives his reaction to this year's Emmy nominations.
As always, TV Babble is free to download and to subscribe and if you feel inclined to leave us a review on Itunes or Stitcher, we'd love that. New episodes will pop up every other Wednesday so watch for a new episode to drop on August 15.
Free subscription and download to TV Babble on Itunes and Stitcher. Follow the TV BABBLE PODCAST on Instagram, Twitter and Facebook.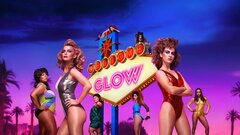 GLOW
where to stream
Powered by