Introducing the TV Babble Podcast! With 'Cloak & Dagger' Stars Aubrey Joseph & Olivia Holt
Look! We made a podcast!
Our jobs here are to watch television and make sense of it all but with so much great (and not-so-great) programming, we felt we — and you -— needed another outlet so let us introduce you to the TV Babble Podcast.
The goal with the podcast is to basically babble about all things television with the help of TV star and producer interviews, staff roundtables from the good folks at TV Guide Magazine and TV Insider, as well as regular segments from TV Guide Magazine's Senior Critic Matt Roush (What's Worth Watching) and Senior Writer Damian Holbrook (Cheers and Jeers).
The TV Babble Podcast is live now and we've dropped the first three episodes for you to take in, enjoy, and, yes, subscribe to so you don't miss a single bi-weekly episode.
See Also
Plus, will she find out about her son's powers in the finale episodes or Season 2?
There are three episodes available now and you can find them here. But, since the first season finale of Marvel's Cloak & Dagger aired this week on Freeform, it's the perfect time to jump to the episode where we sat down with stars Aubrey Joseph (Cloak/Tyrone) and Olivia Holt (Dagger/Tandy).
The two shared their challenges in shooting the first season, their excitement over their first San Diego Comic Con and they teased the finale as much as they could without spoilers. Also in the episode is our post-Comic Con roundtable with yours truly, Holbrook, and Assistant Editor Emily Aslanian, who were all there for the excitement.
Here is the Cloak and Dagger Comic Con episode of TV BABBLE. Be sure to subscribe and let us know what you think in the comments below.
Free subscription and download to TV Babble on Itunes and Stitcher. Follow the TV BABBLE PODCAST on Instagram, Twitter and Facebook.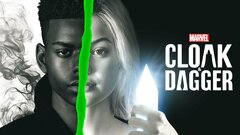 Powered by