Amber Nash Talks 'Archer: 1999' & Answers Random Questions as Pam Poovey (VIDEO)
The Season 9 finale of Archer: Danger Island in June not only wrapped up the season, but also gave viewers a glimpse of what Season 10's theme might be in a somewhat-mysterious final scene.
Then, the show's San Diego Comic-Con 2018 panel, executive producer Casey Willis officially announced that the gang will be shooting for the stars with a new adventure in space. And lucky for us, Amber Nash (the voice of rambunctiously potty-mouthed Pam Poovey) stopped by TV Insider and TV Guide Magazine's video suite at the event to chat about the next season, dubbed Archer: 1999.
The cast just recorded the first episode and Nash confirmed, "We're definitely all in space." However, we still don't have many details on just what to expect from her character. "Pam is not going to be human," Nash detailed. "She's like a creature from another planet. I don't know what she looks like yet." Well, whatever it is, we're sure we won't be disappointed.
Nash also rocked an improvised Q&A session, answering random questions as if she were Pam, like "What's your favorite color?" As fans of the show can guess, it gets a little NSFW.
Check out the fun from our video suite below.
Archer: 1999, Premiere, 2019, FXX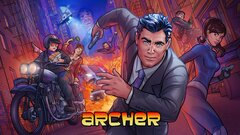 Archer
where to stream
Powered by