'The Originals' Series Finale: Julie Plec Breaks Down That Heartbreaking Ending
[Warning: The below contains MAJOR spoilers for the series finale of The Originals, "When the Saints Go Marching In."]
No stranger to making her viewers sniffle, Julie Plec's final The Originals script went out with the full waterworks treatment.
We were still mourning the murder of Josh (Steven Krueger), our favorite gay bloodsucker, from several episodes ago — no worries, he was reunited with his true love in the afterlife — but despite the copious deaths on the show and its progenitor The Vampire Diaries, tonight's double sacrifice of the supernatural Mikaelson brothers, Klaus (Joseph Morgan) and Elijah (Daniel Gillies), was a gob-smacker.
Klaus knew when he took the lethal dark magic from out of his daughter Hope (Danielle Rose Russell) and into himself that he was doomed. He went off to die alone after, yes, a tearful goodbye to his beloved siblings, friends, and child. Then, unbeknownst to him, Elijah — who had tried to redeem his younger brother for a thousand years — said he couldn't let Klaus go into the unknown alone. Klaus reluctantly (though thankfully) agreed and they staked each with white oak, the only weapon that could kill an immortal Original.
See Also
Plus, the final seasons of 'Crazy Ex' and 'iZombie' confirmed and more new series announcements.
TV Insider spoke with show creator Plec — whose third franchise entry, the Hope-centric Legacies, premieres this October 25 — about that creative decision and others that were revealed earlier tonight.
When did you decide to end the series with the voluntary deaths of Klaus and Elijah together? And why?
Julie Plec: We made the decision at the beginning of the final season. At the time, knowing the paths we were taking Elijah down and we would take Klaus down related to his daughter Hope, we realized the death of one without the other would be tragic, but the death of both would be somehow deeply, profoundly beautiful. It's my version of a happy ending! Their deaths are by no means a cause for celebration, but it is almost on a spiritual level, the idea of two immortal beings who have circled around each other for a thousand years freeing themselves from one plane and going hand in hand into the next.
So for Elijah it really was family, "Always and forever."
Yes. But if Elijah's hadn't had his journey with Antoinette (Jaime Murray), where he got to experience life and love and if he hadn't had an accidental hand in the death of Hayley (Phoebe Tonkin) [another amour and Hope's mother] there would have been more of his story to tell in the absence of Klaus. This way, it felt like the poetic thing for him to do was follow his brother into the next plane and continue their beautiful cycle of disfunction for the next thousand years.
When The Vampire Diaries characters, and then The Originals' Josh, Hayley and the good witch Ivy (Shiva Kalaiselvan) died, they were shown to be surrounded by loved ones in the afterlife, but there was no closure of that sort for Klaus and Elijah. In fact Klaus was afraid there would be only darkness. They are of course monsters, but they're our monsters. Do they not deserve Heaven?
(Laughs) My favorite line is when Klaus says, "What if it's not that good where we're going?" The idea was that Elijah, bless him, could recognize that Klaus is afraid, and he wants to be there by his side and says. "Let's not be afraid, because we're together." Personally, I believe they're at peace. Klaus is watching his daughter grow up and Elijah has found himself in that field having his dance with Hayley.
You did tie up storylines for almost everyone else on the show. Rebekah (Claire Holt) finally totally committed to Marcel (Charles Michael Davis) and Klaus told her where the potion that could make her human was. That's her dream. You think she'll take it anytime soon?
Well, (laughs) you have to remember that (TVD's) Damon Salvatore (Ian Somerhalder) has the cure and there's no way he's giving that up until he's lived his long life and had babies and grandbabies with Elena. That's why Klaus assumes it will be 70 or so years before Rebekah gets her hands on it.
See Also
'The Original's spinoff series is premiering this fall.
Clearly you wanted a Mikaelson life goes on moment at the same times as the siblings' deaths, with witch Vincent (Yusuf Gatewood) agreeing to father a baby for Freya (Riley Voelkel) and her werewolf wife Keelan (Christina Marie Moses).
Yes. We really wanted to end with the idea that the Mikaelson dynasty would live on in its own untraditional and beautiful way. And that Freya, the one who really sacrificed so much — she had to grow up without her family, she lost love, she lost a baby —builds a family of her own as they bring peace to New Orleans and live their lives together. We also wanted Vincent, who worked so hard to protect everyone else in the name of his love for his city, and who also lost a love and a baby, to get a second chance at that life that he had missed out on. It all really felt right.
There were several Caroline (Candace King) and Klaus scenes in the final episodes including the extremely poignant one when they kissed goodbye. Did you do that for Klaroline fans like me?
(Laughs) I've never done anything specifically for #Klaroline, because some of the people on that are downright disruptive. But I personally have always enjoyed the spark of that relationship and I was thrilled to bring that full circle.
It wasn't just Klaus's friend/romantic interest Caroline who returned for but also Camille (Leah Pipes), a major love of his and the character with a prolonged and emotional death scene a few seasons back. Was it tough getting the actors you wanted for the show's final episodes? You even won a wordless guitar-playing cameo from Nathan Parson's Jackson; Hayley's late werewolf husband.
To my knowledge, we got no "No's." Everybody we invited accepted our invitation to the party. The fun thing about series finales is that people who have enjoyed their experience on the show tend to get really excited about coming back. Candace had a great time revisiting Caroline this season. We shot her scenes in New Orleans, where she got married, so she was 100% all in. And Leah is such a delightful person. It was great to work with her. She was equally as game to show up and see all her friends and visit that character one last time.
Are there any character storylines you had no time to revisit?
One of things I wanted to address, but finally threw my hands up and decided, "Oh screw it! It's funnier this way," is the idea that [Klaus's crazed onetime love and stalker ] Aurora (Rebecca Breeds) is still in a sleep cell somewhere in the Mikaelson wine cellar!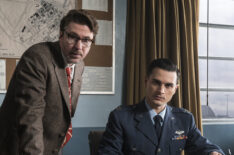 See Also
A fresh batch of new shows are sure to keep you entertained.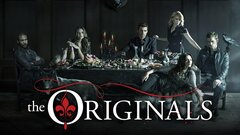 Powered by