9 'Making It' Premiere Moments That Were Just for 'Parks and Recreation' Fans
NBC's latest reality competition Making It is sure to make Parks and Recreation fans happy! As the show's hosts, Amy Poehler and Nick Offerman really embrace their past roles and prove they're not too different from their fictional counterparts, Leslie Knope and Ron Swanson.
From Nick Offerman's real-life woodworking skills to Amy Poehler's unfiltered joy, Making It is the closest thing to a Parks and Rec reunion fans have had since the show wrapped in 2015. The crafting competition sees the actors interact with contestants in a positive way, and they get just as upset about sending the makers home as we'd imagine their characters would.
In case you missed it, we've broken down all of the Making It premiere moments that would make any Parks and Rec fan gleeful.
1. Poehler & Offerman's Spirit Animals
In the first challenge, contestants were tasked with creating 3D version of themselves in animal form (i.e. their spirit animals). When the hosts weighed in with their own animals, Poehler and Offerman sounded just like Leslie and Ron: Poehler chose a dolphin, while Offerman quipped he'd be a left-handed man.
2. Offerman's Woodworking
At the beginning of the episode, the show made it abundantly clear that Offerman is a crafter, while Poehler is more of an enthusiast. And Offerman's skillset is very similar to Ron Swanson — he's a woodworker, whose attention to the finest details would likely bring tears to the eyes of his fictional counterpart.
3. Poehler's Suspicions
During the faster craft challenge, contestant Joanna Gick was using balloons to make her animal and had difficulty as it kept popping. Still, fellow contestant and competitor Nicole Sweeney didn't react to the abrupt noises, which stirred a Leslie-like suspicion in Poehler.
4. Offerman & Poehler's Craft Pun-Off
During the episode, the friends faced off in one serious game of craft pun-offs, which perfectly demonstrated their quick wit — a dynamic that was also key in Leslie and Ron's friendship. (Note: The above clip is an extended version of the one that aired in the premiere.)
5. The Master Craft Quilt Challenge
In the second round of the premiere, contestants were asked to make unique quilts and family photo albums. Of course, the assignment sounds like something straight out of Leslie Knope's binders and instantly reminds one of her attempt to unite her and Ben's (Adam Scott) families with a quilt (that also included Joe Biden's face).
6. Offerman's Wood Challenge
While the contestants were hard at work, Offerman and Poehler were up to some more shenanigans as she tested his ability to identify wood by smell. Let's just say things got a little strange, but for the most part, Offerman did his character proud by being able to identify a few of the different woods.
7. Poehler's Impersonations
In the downtime between crafts, Poehler impersonated the contestants' reactions to the dwindling time left in challenges. It's easy to see where she and Leslie Knope overlap.
8. Poehler's Desire to Add Contenders
When it came time to discuss the contestants who would be sent home, Poehler claimed that she only wanted to add people. She told Offerman, "Here's a pitch, we don't send anybody home, we add somebody every week, we all stay here, we look at cool stuff, and we go to dinner." Offerman's response? "I like dinner." If there was ever a Ron and Leslie moment, this is surely one of them.
9. Cabin Living
At the end of the episode, the eliminated contestant is seen with Poehler and Offerman on the porch of "their" tiny cabin. In the short bit, Poehler tells [Spoiler] eliminated maker Jemma Olson that they can share the bunk bed, and Offerman adds that there's eggs in the fridge — a Ron Swanson staple.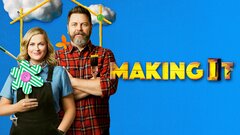 Powered by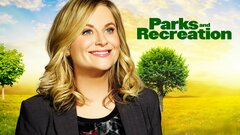 Powered by