'Making It': Amy Poehler and Nick Offerman Get Crafty in New Series (VIDEO)
It's art and crafts time! Former Parks and Recreation costars Amy Poehler and Nick Offerman are hosting a new series, Making It, which is all about well, making stuff.
The contestants on the crafting competition series will use all types of materials from paint to fabric, to metal and woodworking in the hopes of being crowned the most innovative. The series intends on testing the crafters' imagination and skill.
"I like people who make things," says Poehler in the recently released teaser trailer for the series.
"And I love to make things," adds Offerman. "So we're hosting a new show on NBC where incredibly talented people are going to have a friendly competition."
Watch the trailer below:
Making It, Series Premiere, July 31, 10/9c, NBC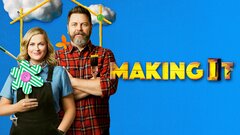 Powered by