The 5 Best 'M*A*S*H' Episodes to Stream on Hulu
War may be hell, but this is one battlefield we're eager to revisit. For more than half of its 1972–83 run, M*A*S*H, the much-lauded CBS series set on the front lines of the Korean War, ruled Monday nights with the heroics and antics of the 4077th Mobile Army Surgical Hospital.
Anchored by wisecracking surgeon Benjamin Franklin "Hawkeye" Pierce (Alan Alda), M*A*S*H had humor at its heart (it won an Emmy for Outstanding Comedy Series in 1974 as well as 13 other statues during its run), yet it's impossible to forget its frequent sharp turns into drama.
With all 11 seasons available to stream on Hulu beginning August 13, we enlist you to pour yourself a martini Hawkeye would salute and rewatch the groundbreaking series. Here are five of its best episodes.
"Sometimes You Hear a Bullet"
(Season 1, Episode 17)
You may think Hawkeye is all laughs, but a different side of the booze-loving surgeon is revealed when he takes matters into his own hands to stop another senseless war death. (Yes, that's a young Ron Howard as a GI.)
"Abyssinia, Henry"
(Season 3, Episode 24)
We're stille reeling from not just saying goodbye to homebound Colonel Henry Blake (McLean Stevenson) but, in the episode's final scene (which was a surprise even to the cast!), finding out his plane had been shot down and there were no survivors. Cue the waterworks.
See Also
Stars Loretta Swit and Jamie Farr walked the Daytime Emmys red carpet together.
"The Interview"
(Season 4, Episode 25)
Maybe it's the black-and-white documentary style or having an actual war correspondent (Clete Roberts) interview the 4077th members — but scripted TV never felt more real. Another reason? It was rooted in truth: The episode was based on journalist Edward R. Murrow's wartime interviews with Marines in 1952.
"Point of View"
(Season 7, Episode 11)
Even if you're a stranger to war, you'll feel a bit more connected after this episode, told entirely through the eyes of a wounded soldier.
"Goodbye, Farewell & Amen"
(Season 11, Episode 16)
We still can't believe it's over. More than 100 million viewers tuned in to the series finale, which saw the war end — and Hawkeye suffer a breakdown.
See Also
Catch up with Alan Alda and the rest of the cast of the iconic dramedy's cast.
5 "Hot Lips" Highlights
"Hot Lips and Empty Arms" (Season 2, Episode 14)
"Margaret's Engagement" (Season 5, Episode 3)
"The Nurses" (Season 5, Episode 6)
"Comrades in Arms, Parts 1 and 2" (Season 6, Episodes 13 and 14)
"Father's Day" (Season 9, Episode 4)
M*A*S*H, All 256 Episodes, Begin Streaming Monday, Aug. 13, Hulu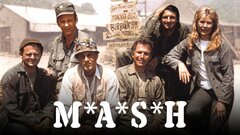 M*A*S*H
where to stream
Powered by