'M*A*S*H' Stars Jamie Farr & Loretta Swit Reunited This Week (PHOTO)
Blink and you might've missed a major reunion at this year's 2018 Daytime Emmy Awards.
M*A*S*H stars Jamie Farr and Loretta Swit attended the ceremony together, posing together on the red carpet and behind the scenes. Both in their eighties — Farr is 83 and Swit 80 — the actors appeared on the CBS classic series over three decades ago in over 200 episodes each.
See Also
Catch up with Alan Alda and the rest of the cast of the iconic dramedy's cast.
Farr and Swit round out the show's 3 top-billed actors, after headliner Alan Alda. The former co-stars couldn't have looked any happier to be together, grinning from ear to ear and even catching some shots with fans.
Swit played Major Margaret "Hotlips" Houlihan in the war-set comedy drama. The actress nabbed many Emmy and Golden Globe nominations for her portrayal, ultimately winning two Emmys.
Fans will recognize Farr as Corporal Maxwell Q. Klinger, best known for his hilarious antics on the series. The mini reunion celebrates over 45 years since the show debuted, as well as 35 years since the final episode.
In spite of their age, both stars have projects in the works — Farr in Fox's multi-camera retirement community comedy pilot Cool Kids, and Swit in the movie Play the Flute. Keep on keeping on, you two!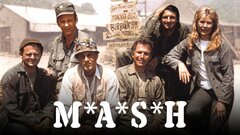 M*A*S*H
where to stream
Powered by