Hulu's 'Harlots': How the Hair, Makeup & Costume Teams Create Charlotte's Look
Harlots' smart, sassy Charlotte Wells is a star in Georgian-era London — a top-tier temptress and third-generation sex worker who grew up in a brothel.
How does actress Jessica Brown Findlay (Downton Abbey) look the part for Hulu's bawdy period drama? We seduced head of hair and makeup Sue Wyburgh and costume designer Charlotte Mitchell into sharing their secrets.
Hair
"As Charlotte starts to inhabit a richer society, we pushed the hairstyle higher, as was the trend," Wyburgh says. "Women often styled their own locks with hat pieces and jewelry, while men opted for obvious wigs."
See Also
Plus, 'Castle Rock,' 'The Handmaid's Tale,' other Hulu originals.
Makeup
Using color to enhance lips and cheeks was "a fashion statement adopted by people with money," says Wyburgh, who applies MAC matte lipstick in Studded Kiss, Antique Velvet or Russian Red.
Accessories
Her choker is based on one worn by Louis XV mistress Madame de Pompadour. Mitchell chose luxe fabric over precious gems to show off Charlotte's individual style. Poorer harlots unable to afford necklaces, she adds, "would use a ribbon."
See Also
'Insecure,' 'Bachelor in Paradise,' and more are coming to Hulu this month.
Corset
How else to attain the "heaving bosoms and tiny waists" favored in the 18th century, notes Mitchell? Drawback: "Your squashed flesh spills out the bottom of the corset." (Wardrobe provides a flattering chemise to hide this.)
Wardrobe
The shot silk gown proclaims Charlotte's status. "She has made money and is brash enough to flaunt that," says Mitchell. The fashionable bows would, for proper ladies, adorn more sober garments, she adds. "The clashing blue color pushes Charlotte's lack of class. There's no subtlety to her!"
Harlots, Wednesdays, Hulu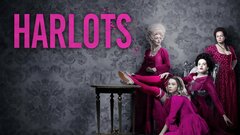 Harlots
where to stream
Powered by