Is 'The Proposal' Couple Latoya & Tyler Still Together?
ABC's dating show The Proposal aired its sixth episode on Monday night, and yet another couple has found love!
This week, 33-year-old aspiring Dallas lawyer Latoya Blakely entered into the pod in the hopes of finding someone to spend the rest of her life with. She revealed she's been through intense heartbreak when her partner died in a car accident. It took a long time for her to emotionally recover, but she's ready now.
Here's a handsome bunch! We can't wait for these men to take a chance on #TheProposal! pic.twitter.com/YVAgNMsW7D

— The Proposal (@TheProposalTV) July 20, 2018
Ten gentlemen filled the stage during the first round, but only a handful of bachelors walked away: Tyler, Jacky Tran, Michael, Ken, Garland, Anthony, and Shawn Don.
After the beachwear round and a bizarre rap from Shawn Don, the next men to move on were: Ken, Garland, Michael, and Tyler.
That's a lot of love! #TheProposal pic.twitter.com/CNjPQxua4C

— The Proposal (@TheProposalTV) July 24, 2018
In the third round, Latoya confronted her final four with some "deal breaker" questions about race, love, creating a family. Unfortunately, Ken was eliminated which brings us to round four.
Then, Latoya's mother came on stage to ask the final three men some follow up questions. She discussed her thoughts with Latoya and the final two men chosen were Tyler and Garland.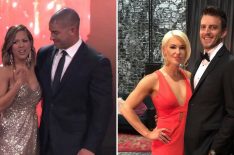 See Also
Find out how these quick matches are doing now.
In an OMG moment, both men got down on one knee in front of Latoya but it was Tyler who stole her heart when he "proposed" they go on vacation to his "special place" in Cape Cod to meet his family and get to know each other better.
And we're happy to report that they did take that trip and they're still together!
We are happy to share that Latoya and Tyler did end up taking that trip to Cape Cod! They are enjoying getting to know each other. 💕 #TheProposal pic.twitter.com/8cmtnESqU1

— The Proposal (@TheProposalTV) July 24, 2018
The Proposal, Monday, 10/11c, ABC