'Wynonna Earp' Star Katherine Barrell Hints at Big Changes for WayHaught in Season 3
SYFY's supernatural Western series Wynonna Earp's third season is swiftly approaching on July 20, and fans are anxiously awaiting what the new episodes will bring.
Hopefully, one thing we'll get more of is #WayHaught, AKA one of TV's favorite couples, Waverly Earp (Dominique Provost-Chalkley) and Nicole Haught (Katherine Barrell).
Barrell chatted with TV Insider at 2018 ATX Television Festival in Austin, Texas about what's in store for them in the near future.
"We see a more domestic WayHaught relationship," she said. "So we see them get a lot closer and reach another level with being so much more comfortable with where they stand with each other."
But just because they're comfortable, doesn't mean everything is copacetic. "You let a bit more of your ugly out with your partner when you're comfortable, your vulnerability, your weaknesses. We see this shift from newly dating to being in a more long term relationship," Barrell added.
Something else that will be explored in Season 3 is Nicole's past — "We where she's come from, her relationship with her family. We just get some answers to so many open questions from previous seasons," she teased.
Another character fans can expect in turmoil is Doc Holliday, played by a mustachioed Tim Rozon (more on that later).
"In Season 3, Doc lives in this grayish area between good and evil," Rozon explains. "His intentions aren't as clear. Season 2 ended with my character physically going to Hell and I don't think that's great spot, so I think he has some fear there."
Plus, Doc just gave up the newborn daughter he had with Wynonna and "it's affected him in more ways than one." So make sure to look out for a strained relationship Wynonna because "Doc doesn't deal with his feelings in the best way."
Now on to one of the most epic mustaches in the history of TV — it's actually real. Rozon's says it takes him "about four months" to grow and then he keeps the facial hair for around five months of filming.
"I love it when we're on set but literally, after the last scene I'm like, "It's gotta go!" he joked.
Wynonna Earp, Season 3 Premiere, Friday, July 20, 9/8c, SYFY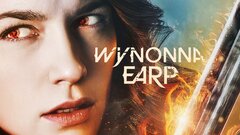 Powered by