Shudder's 'Ruin Me': Sneak Peek at the Horror Streamer's New July Flick (VIDEO)
Are you a fan of horror? Well Shudder's Ruin Me may be perfect for your terrifying tastes.
For those who don't know, Shudder is a streaming service that caters to horror fans with changing titles each month. This month, the film Ruin Me is giving viewers a reason to check out the service, with all the horror tropes one could hope for.
Ruin Me follows Alexandra (Marcienne Dwyer) as she "tags along for Slasher Sleepout." What is Slasher Sleepout, you ask? Well it's considered an extreme event that blends camping, physical challenges, and haunted house elements.
Of course, it isn't a horror film without a little touch of death, which is exactly what Alexandra faces. If she wants to make it out alive, she'll have to play the game.
In an exclusive sneak peek below, watch as Alexandra and the rest of the Slasher Sleepout goers solve an escape-the-room-like challenge. Based on her ability to figure out the mystery, it's easy to assume that Alexandra's chances of survival are much higher than her fellow competitors.
Ruin Me, Streaming now, Shudder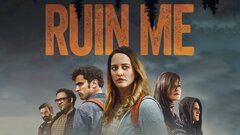 Ruin Me
where to stream
Powered by