'Arrow' Season 7: Showrunner Beth Schwartz Answers All Your Burning Questions
Oliver Queen (Stephen Amell) is a hero through and through.
On the sixth-season finale of Arrow, he revealed himself to be vigilante Green Arrow and surrendered to the FBI in order to keep the rest of his squad from facing criminal charges. But with crime lord Ricardo Diaz (Kirk Acevedo) still on the loose, what does that mean for Star City's finest?
See Also
The hunky actor also teased that big crossover in the works for next season.
Showrunner Beth Schwartz gives us some hints:
Ricardo is at large! Uh-oh.
For the first time, the show's big bad wasn't vanquished in the finale, which means the mobster is sticking around and, per the showrunner, is furious about Oliver's attack on his gang. "When we see him again, he is not going to be very happy. He'll definitely be out for blood," says Schwartz.

So maybe it's a good thing Oliver is behind bars for his vigilante crimes?
Not so much. "Prison isn't great for Oliver Queen. It's not going to go well," says Schwartz, teasing that "we'll see some of the people that he's put in prison" over the past six seasons.
See Also
The out and proud caped badass is being considered for an Arrowverse series.
Why wasn't Oliver sent to Iron Heights?
Instead of doing time in the Arrowverse's go-to penitentiary, the unmasked good guy is behind bars in what Schwartz calls the "brutal" Slabside Maximum Security Prison. Adds Schwartz, "We wanted to up the stakes and see a new prison that was filled with a little more dangerous type of people."
How is Felicity (Emily Bett Rickards) handling the fact that her husband is locked up?
Most likely with her usual pluck and resilience! Everyone on the team will be "in a different place than you would expect when the show returns," says Schwartz. "They're all going to have different reactions to Oliver being in prison and what their responsibilities are now."
Thea (departing series star Willa Holland) just left town with Roy (Colton Haynes), so how is Roy coming back without her?
Schwartz promises viewers will learn early on why the two aren't together. We'll also see Roy — aka the former vigilante Arsenal — "being a hero in a different sort of way," she says.
See Also
Plus, new series 'Charmed' and 'Legacies' get premiere dates.
For more exclusive content from your favorite shows like Arrow, Supergirl, and more, pick up TV Guide Magazine's Special Comic-Con Issue, on sale now. It's an all-access SUPERFAN guide with 88 pages of behind-the scenes photos, scoops, and interviews .

Arrow, Season 7 Premiere, Monday, October 15, 8/7c, The CW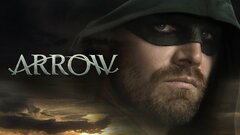 Arrow
where to stream
Powered by