Prince Harry on 'Outlander'? The Royal Spotted With Cast
A girl can dream, right?
We're sad to report this isn't happening, but Irish Outlander star Caitriona Balfe did rub elbows with British Royal Family member Prince Harry and his new bride, Meghan Markle, when they visited Dublin, Ireland, on their first official overseas visit as a couple.
While abroad, the Duke and Duchess of Sussex had meetings with the Irish President Michael Higgins and the Taoiseach, Leo Varadkar. Then, they attended a summer garden party where Balfe was also spotted.
"I have the greatest confidence that the friendship, collaboration and mutual understanding that our two countries have built up over the years will endure and it will grow." — The Duke of Sussex #RoyalVisitIreland 🇮🇪: https://t.co/YnfzAFW5Ea pic.twitter.com/cuNIlxvKQF

— Kensington Palace (@KensingtonRoyal) July 10, 2018
The picture includes Irish actor Moe Dunford (second from right), known for his role on the drama series Vikings, and Barry Keoghan (right), who appeared in the movie Dunkirk.
Outlander just wrapped filming its fourth season in Scotland, and the series will return in November 2018 on Starz.
Photos: British Embassy Summer Party in Ireland — see more photos at 'Caitriona Balfe Fan' (a fansite): https://t.co/r5eHwBXFYs #CaitrionaBalfe #Outlander #ClaireFraser @caitrionambalfe pic.twitter.com/0m6oxpTDUX

— Caitriona-Balfe.com (@CaitrionaFan) July 11, 2018
Although it's extremely unlikely a Royal Family member would ever appear on a television series (minus Markle's role on Suits before marrying Harry), special guest stars are common on premium cable shows.
See Also
The show's fourth season premieres in November.
Last season on Game of Thrones, Grammy-winning musician Ed Sheeran appeared briefly in an episode. And let's not forget Prince William and Prince Harry did have masked cameos as Stormtroopers in Stars Wars: The Last Jedi but sadly their scene was cut at the last minute by director Rian Johnson.
At least they visited the set at Pinewood Studios outside of London, England.
Outlander, Season 4 Premiere, November 2018, Starz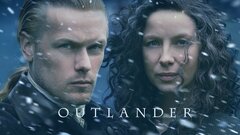 Powered by