NBC Cancels 'Timeless' After Two Seasons
It's the end Timeless fans didn't want to see happen, but NBC has officially canceled the series after two seasons.
The network and studio Sony Pictures Television had been in talks for weeks, leaving the show in limbo.
But there are rumors that a 2-hour series finale movie could be in the works to tie up loose storylines, although the possibility is slim.
See Also
Everything from '60s glam to Civil War uniforms and colonial Massachusetts garb.
Timeless fans know the rough journey the time-traveling drama has been through. It was initially axed after its first season, then NBC resurrected it.
At the time NBC chairman Robert Greenblatt said, "[We] heard [about] the [fan] outcry and went back to the drawing board with our partners at [producing studio] Sony."
After a year off the air, Timeless returned in March on Sunday night with 10 episodes in its second season.
The cast reacted to the news on Twitter:
I love you #Clockblockers. You've fought so hard and deserve so much more. #Timeless https://t.co/XmIblLJRkt

— Matt Lanter (@MattLanter) June 22, 2018
It's true. Thank you for all your support #Timeless fans! It's been an absolute joy playing your Lucy. I sincerely hope we get to do the Timeless movie to wrap up the story and get one more go to wrap up the series in a powerful & elegant way! More soon! xoxo https://t.co/YI59x68dj6

— Abigail Spencer (@abigailspencer) June 22, 2018
Oh boy. This news sucks. Not what we expected and NOT what our fans deserved. BIG GULP!
This mama bear wants to thank our #Timeless fans for all their love and support and for creating the vibrant, compassion community we are all now a part of.
❤️🙏🏽❤️🙏🏽❤️🙏🏽❤️ pic.twitter.com/3tlzmX0EBq

— Sakina Jaffrey (@sakinajaffrey) June 22, 2018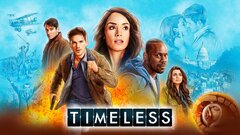 Powered by