FX's 'Snowfall' Executive Producer Dave Andron Hints at Worlds Colliding in Season 2
Snowfall's plotlines, which explore the origins of the country's crack epidemic, collide in Season 2 of the fact-based drama.
It's December 1983, and young L.A. drug dealer Franklin Saint (Damson Idris) is managing a startup that's growing one baggie of addictive rock at a time. "Franklin has lofty goals to wield real power and influence," explains executive producer Dave Andron.
See Also
The actress on playing one of the show's many strong (and sometimes difficult-to-like) female characters.
A major obstacle could initially disrupt his progress, but the show's other main characters — undercover CIA agent Teddy McDonald (Carter Hudson) and cocaine dealer Lucia Villanueva (Emily Rios) — will soon enter Franklin's orbit. "He'll facilitate his goals as well as theirs," Andron continues.
Teddy's in a tight spot since the CIA is distancing itself from his controversial off-the-books operation: He's been trafficking cocaine into the U.S. and using the drug money to supply weapons to Reagan-supported anti-communist Nicaraguan rebels.
See Also
FX's intense crack opus promises even more conflict as it preps for a Season 2
Cut off from government support, the agent needs a new revenue stream, which leads him to Franklin and his crack. "Teddy has owned the position he's in," Andron says, "and he's going to push forward."
Lucia, for her part, has been buying cocaine from Teddy — who goes by the name Reed when he's undercover on the street — but she wants to get her hands on this new, cheaper drug making the rounds. "She has realized the potential for this product in the same way Franklin has," Andron explains. "And she's going to try to move in. Any way she can."
Snowfall, Season 2 Premiere, Thursday, July 19, 10/9c, FX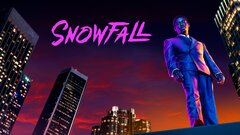 Powered by