'Colony' & 'Walking Dead' Star Sarah Wayne Callies on Her Preference for 'Really Extreme' Stories
"I'm interested in who people are when everything is taken away, whether by zombies or aliens," says Sarah Wayne Callies, referring to two of her favorite projects, AMC's The Walking Dead and, now, USA's Colony.
That preference for "really extreme" stories has certainly been satisfied: The alien-occupation drama has stripped her character, Katie Bowman, and husband Will (Josh Holloway) of refuge, hope—and a son (Jacob Buster).
Below, Callies digs into the recovery process with us.
Congratulations on directing the June 26 episode. That was a good one with a violent confrontation between Will (Josh Holloway) and the sneaky collaborator Snyder (Peter Jacobson). Was it your first time directing? How did your buddies feel about your bossing them around?
It was my first time! First off, I never worked with a good director who believes that bossing people around works. [Laughs] But it was interesting timing, because just as I began prepping for directing, Harvey Weinstein and the #MeToo movement exploded. So many of us in the business have experienced these awful things, and we discovered that we weren't alone, but to our horror it was pervasive.
In a counterbalance to that narrative, I'm grateful that I got the opportunity to direct by a bunch of straight, rich, powerful white guys. And they had my back. That was a bit of an antidote. There was something healing in that. Josh Holloway [who's also an executive producer] not only signed off on it, but went to bat for me at the executive level. And [executive producers] Ryan Condal and Carlton Cuse were not only supportive but had a step-by-step action plan. Now that we've wrapped Season 3, I just stepped out of the editing room on my second directing segment. Colony opened some tremendous doors for me. I'm directing an episode of the upcoming miniseries Unspeakable for the Sundance Channel about the spread of AIDS through the blood system back in the '80s and '90s.
Katie once helped lead the resistance against the alien Hosts. Now she works for the Seattle authorities. Why?
Sarah Wayne Callies: Her goal is to build the safest life possible for her surviving kids [Isabella Crovetti and Alex Neustaedter]. Her story explores how during occupations historically, the majority of people don't resist or collaborate. Is non-action complicity? That's the way the audience seems to feel.
When it came to all those children being separated from their parents at the border, a lot of people who'd been pretty quiet about things political finally said, 'No way, I'm sorry. Who cares who you voted for, don't put children in cages.' When does your silence become tacit support for whatever an occupation or administration is doing? That's what we're exploring with Katie right now.
Is the role as tough physically and emotionally as it looks?
Absolutely.
What was the most difficult scene episode or arc?
Episodes 5 and 6 this season were incredibly hard. First, because we shot them mostly outside in the mountains outside Vancouver and it was getting very cold and very dark. And then obviously layering on the loss of one child, Charlie, with the potential death of another, Gracie, from a septic infective was really difficult. When Josh and I finished those two episodes, we went out for a cocktail and just sort of looked at each other and thought, 'Well, thank God, that's over.'
Did playing Lori Grimes on The Walking Dead prepare you for this role, with the action and dystopia and her sacrifice for her new baby?
Lori didn't prepare me for this. They're hugely different women in terms of who they are and what they want, but I am definitely drawn to stories that are really extreme, like these shows. In a way they are photo-negatives of each. Walking Dead is an apocalypse which is chaos and Colony is about an alien occupations that is hyper-organized. I'm really interested in who are as people when everything we thought we knew about ourselves is taken away. I've worked in refugee camps with the International Rescue Committee and what you often find is that we are not the people that we thought we were when we were safe and warm and well-fed. We can become something very different when all of that goes away, whether that's aliens or zombies. Or geopolitical stuff.
Katie's old resistance comrade Broussard (Tory Kittles) is back. Why is their connection so deep?
It's the bond between people who were in battle together. I met with veterans of the Iraq War when I did [National Geographic's] The Long Road Home, and their love and devotion to one another is impossible to overstate. It was a huge betrayal [in the July 4 episode] when Katie learned Broussard reached out to Will first for [a covert] operation.
Meanwhile, another dangerous alien force is getting closer. Can the humans possibly win?
The question will become whether an alliance with one side could spare humanity. The [alien-collaborating] IGA believe the Hosts are our best protection. By season's end, we'll have the answer.
Fox has talked about bringing back Prison Break in some kind of iteration. Have you heard anything more about it? Are you interested?
The last thing I heard was at the network Upfront in the spring. 'We're basically cancelling everything on the network, but we're still talking about Prison Break.' I know that Paul Scheuring is writing and working on pitching things. Paul is brilliant and it's a show I have a tremendous affection for. If they come up with something they think is worth doing, it would very much surprise me, if I didn't agree. It's just a matter if is there another chapter in this story.
It sounds as if there's another chapter left in Colony.
I certainly hope so. I love this show with my whole heart. I'm so proud to be talking about things like fascism and resistance right now. To be making entertainment about something this relevant is a huge gift.
Good sci-fi has always had the freedom to tackle difficult real life political issues in an entertaining way, hasn't it?
Absolutely. Science fiction has always allowed us to explore issues that feel too dangerous to explore any other way. As I said, it's a gift.
Colony, Wednesdays, 10/9c, USA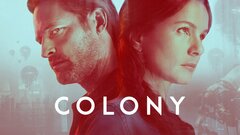 Colony
where to stream
Powered by