'Colony' Season 3 Premiere: Josh Holloway Offers a Peek Into the Future
Everybody exhale.
In last year's Colony finale of the alien-occupation thriller, the ETs known as Raps liquidated Los Angeles, sending former FBI agent Will Bowman (Josh Holloway), wife Katie (Sarah Wayne Callies) and their three kids fleeing into the deep woods.
Six months later, "for the first time since the Arrival, the family is all together and not running for their lives," says Holloway, adding, "That doesn't last long." The actor and executive producer offers a peek into the future.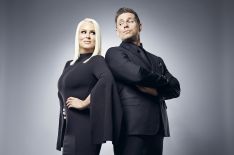 See Also
Plus, find out which of your other favorite shows are coming back next season.
TV Insider: Where is Will emotionally when we return?
Josh Holloway: He's been damaged by the things he had to do for them to survive. Your soul gets dirty no matter what, and that's what happened with Will. He is trying to get back to his code of honor.
That shifty collaborator Snyder (Peter Jacobson) is living with the family. Why?
That guy is a survivor, like a cockroach! He helped Will get his son Charlie [Jacob Buster] back. There's no love between them, but they have an understanding. Will tries to find the good in Snyder.
Will Katie and older son Bram (Alex Neustaedter) persuade Will to join the Resistance?
Will just wants to heal, but his wife and son are ready to save the world. They still have the alien communication device, the Gauntlet, to share with the Resistance.
Shocker! Katie's Resistance pal Broussard (Tory Kittles) survived the L.A. evacuation.
Boy, is he not dead! I'd love to play Broussard. He's like my Lost character, Sawyer. I have to do all this crazy emotion; he just comes in all cool, hangs with the girls and kills a bunch of people.
Will we finally see what the aliens look like?
You will discover something about one set of aliens, because there's a whole new group now. Maybe they're fighting each other, maybe both want to destroy us. Or we could be just frickin' flies caught in the middle.
Colony, Season 3 Premiere, Wednesday, May 2, 10/9c, USA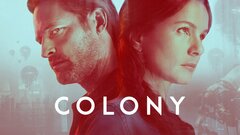 Colony
where to stream
Powered by