'No Passport Required': Chef Marcus Samuelsson Explores Food Across America
Turns out you don't have to leave the U.S. to dine like a globe-trotter.
On PBS's savory new six-parter No Passport Required, award-winning chef, restaurateur and enthusiastic eater Marcus Samuelsson samples a melting pot of American cities, exploring vibrant immigrant communities through cuisine. "We're learning about food and why people cook it, and we're experiencing smells and tastes," he previews. "Once you try food from another culture, you're going to start understanding that culture better."
See Also
And find out all the movies that are soon available.
Samuelsson knows the immigrant experience firsthand. He was born in Ethiopia, raised in Sweden and lives in New York City's Harlem, where he co-owns critically acclaimed comfort-food eatery Red Rooster Harlem. "When you are in a new country," he says, "food from your home country can give you a sense of strength and create a happy place."
In the premiere, Samuelsson (above with photojournalist Salwan Georges) finds that the Detroit Arab-American community brings those joys to the table. The inquisitive host goes on a sugar high with a pastry chef who's reinventing Lebanese desserts at a chi-chi restaurant, joins a Syrian refugee family for a homemade traditional dinner and falls for amba, a spicy Iraqi mango sauce poured over falafel at a sandwich joint. We'd happily hitch a ride with Samuelsson as he crisscrosses the country, stopping in Chicago (for Mexican fare), Miami (Haitian) and Washington, D.C. (Ethiopian), among others.
See Also
The famous chef, who passed away today at 61, will be remembered with a 'No Reservations' marathon.
His love of "chasing flavors" began when he foraged for berries as a child with his grandmother in Sweden. He's since followed his palate all over the planet, sometimes with "dear friend" Anthony Bourdain, the late chef and host of CNN's global food series Parts Unknown. "I've been influenced by Tony by breaking bread with him, and I'm sure it carries over in the show," Samuelsson says. "He taught America we're not that different after all."
No Passport Required, Series Premiere, July 10, 9/8c, PBS (check local listings at pbs.org)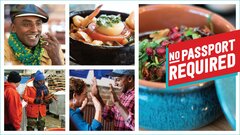 Powered by