5 Memorable and Hilarious Anthony Bourdain TV Moments (VIDEO)
The news of chef and TV Personality Anthony Bourdain's death has rocked the culinary and entertainment world alike, and during a time like this, we like to look back on the good moments.
Known for his shows like No Reservations on Travel Channel and Parts Unknown on CNN, the New York native rose to fame with his book Kitchen Confidential: Adventures in the Culinary Underbelly in 2000. He then made a splash on TV when he joined Food Network for the series A Cook's Tour from 2002 to 2003.
Since then, Bourdain's name had become synonymous with food and travel as his shows featured just that. Similar to those before him, Bourdain will surely be remembered by fans and culinary enthusiasts alike for years to come.
An Emmy winner for his TV work, Bourdain's death has been mourned by many. The network he used to call home, Travel Channel, has even announced that they'll be airing a special marathon of No Reservations on June 10. The episodes will air for 12 hours, beginning at 7/6 a.m. central.
Bourdain has clearly left his mark, so we're looking back at some of his best moments. In videos below, see the late chef do what he did best — eat, travel, and entertain.
When he tried Waffle House for the first time
The time he ate Gordon Ramsay's food
This Tonight Show taste test
When he shared noodles with Obama
His love for Filipino fast food chain Jollibee
No Reservations Marathon, Sunday, June 10, 7am ET, Travel Channel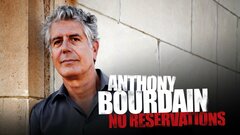 Powered by