My TV Obsessions: 'So You Think You Can Dance' Host Cat Deeley on Her Celeb Crush
Since 2006, Cat Deeley has served as the host of Fox's So You Think You Can Dance — a feat of longevity most hosts aspire to — which has also earned her five Emmy nominations.
But when she's not ushering in the newest generation of dance talent, she's a television viewer just like us! Below, the reality mainstay shares her TV crush, the series she misses the most, the person who makes her laugh the most, and more.
MY CURRENT FAVORITE SHOW
The Crown. It's a little piece of home in California. Claire Foy (below) is a national treasure, and the cast is extraordinary.
THE FUNNIEST PERSON ON TV
Tiffany Haddish (The Last O.G.). That is one brilliant, sidesplittingly funny lady—in any medium.
THE SHOW I MISS MOST
Sex and the City. Those four women were an integral part of my youth.
THE FIRST THING I WATCH WHEN I WAKE UP
Our boy Milo [age 2] always gets into bed with us in the morning and the first thing he asks to see are rocket launches. We've seen them all: Saturn V, Falcon 9, Delta II (above) and all of the Apollos!
MY DREAM CO-STAR
Tom Selleck. I've had a crush on Mr. Selleck since he starred in Magnum, P.I.
THE LAST THING I BINGED
Bobby Kennedy for President, the Netflix documentary. Sometimes fact is stranger than fiction.
THE SHOW I WANT TO SEE REBOOTED
The Fall Guy. It was compulsive Saturday-night viewing when I was a kid. We knew all the words to the theme tune.
I WILL WATCH ANYTHING WITH _____
David Attenborough. Planet Earth was a work of art. His voice is completely calming and vaguely hypnotic.
So You Think You Can Dance, Mondays, 8/7c, Fox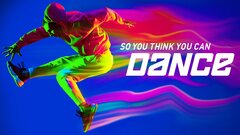 Powered by