Roush Review: 'Trial & Error: Lady, Killer' Offers Another Delightful Defendant
Is it a crime to laugh helplessly at something so silly? If so, I plead guilty to first-degree fandom when it comes to this zany true-crime parody, Trial & Error: Lady, Killer.
A fun summer diversion on par with seedless watermelon, the second season of Trial & Error achieves the improbable: finding a defendant worthy of succeeding John Lithgow's bumbling suspect from a year ago. All purring calculation and self-adoration, the delightful Kristin Chenoweth is a diva-esque hoot as Lavinia Peck-Foster, the most popular—and richest—woman in East Peck, South Carolina.
All signs point to her guilt in the murder of her wealthy husband, but even the unintelligibly whispery judge (one of several foolproof running gags) is on her side. He posts her $10 bail.
A master of the pained double take, the appealing Nicholas D'Agosto whipsaws between cockiness and sheepish humiliation as Lavinia's lawyer, Josh Segal, who may or may not have impregnated rival prosecutor Carol Anne Keane (Jayma Mays).
Slapstick antics and cliffhanger twists elevate the ridiculous tomfoolery, where a femme fatale can get away with saying, "If I were wearing my slapping gloves, you'd be tasting fresh peacock skin by now."
Trial & Error: Lady, Killer: Season Premiere Thursday, July 19, 9/8c, NBC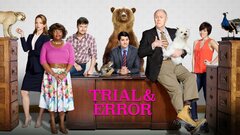 Powered by