'Days of Our Lives' Star Sal Stowers on Lani Losing Her Baby & Meeting TV Mom Marilyn McCoo
Lani's (Sal Stowers) unplanned pregnancy on Days of Our Lives took a shocking twist this week when she suffered a medical crisis and, on the advice of JJ (Casey Moss), opted to go with a premature delivery.
While the emergency surgery saved Lani's life, her and Eli's (Lamon Archey) son died. Her loved ones know the tragic outcome, but Lani won't find out her baby died until Friday's episode.
Read on as Stowers reflects on how this powerful tale has affected her, and what it was like meeting her TV mom Marilyn McCoo (ex-Tamara) last year!
This has to be the most emotional storyline you've ever played on the show?
Sal Stowers: Yes. This storyline took a lot out of me. I don't know what it's like to be pregnant or to grieve a child. It's all foreign to me. So, I had to dive into Lani's world, be vulnerable, and just go there. It was really hard! As an artist you want to be able to tell captivating stories and affect lives. To see the response has been overwhelming. I'm very grateful.
What was your reaction to learning the baby wasn't going to survive?
I found out shortly before we were going to shoot the scenes. I was completely shocked. I thought I'd go full-term. It really broke my heart. I was excited to have that new chapter for Lani. I was really looking forward to it. When Albert Alarr [co-executive producer/director] told me, it was heartbreaking. Then I realized the material I was going to be given and [was honored that] they trusted me with such powerful and emotional material. I said, 'Okay, I'm going to give this all I have.' I opened my soul to it and that's what I did.
Social media comments people are showing people are really being affected by this!
Yeah, that's what's been blowing my world. People found out last week Lani was going to lose the baby. At first, I didn't even acknowledge it [on social media]. The messages I've been getting are blowing my mind! People are really, really sad, and they're mad! It's made me so proud of the work I did and that I was able to touch lives. No one wants to grieve an innocent infant. It's the worst thing anyone can go through. To go there takes a lot. I'd tried to connect with this imaginary baby I created for myself and I fell in love with him.
See Also
The veteran soap star sent out a tweet that has fans thinking that the actor's time in Salem has come to an end!
Contrasting the scenes in which the baby didn't make it were fantasies in which Lani gave birth to a healthy baby and then got to hold him. What was that like?
I was an absolute wreck that day. There was the real baby [I got to hold] and the baby Lani lost. First, I got to work the real baby. I'm a very nurturing woman. Who doesn't love babies? They brought this tiny little baby girl in and I was just crying. It was so real for me. This whole few weeks we were shooting these episodes I was living Lani's life. She wanted this life with JJ. Having him there was so emotional for me. That precious little girl looked at me and her eyes were just mesmerized. She was laughing at me. I was improvising through that whole scene. Everything that happened in there was me improvising with the baby.
What does it mean now for Lani and JJ that she doesn't have that baby, which is what was tying her to Eli?
Lani doesn't even know yet that her baby has died. So, first, she'll have to deal with that. Right now, she can't think about anything else. Her baby is gone and she's wondering what did she do wrong? There's the guilt, the blame — as far as a relationship with either Eli or JJ, that's not even in her brain right now. She's not capable of giving that any energy because her world has just been turned upside down.
Lani has a great support system. ❤️ #DAYS pic.twitter.com/swFLaGbijG

— Days of our Lives (@nbcdays) June 19, 2018
JJ advised Lani to have the surgery. I imagine there will be issues of guilt and blame that will follow in the coming weeks and months.
Everyone is trying to do the right thing for the baby and Lani, as well. Two lives were at risk. Had Lani not had the surgery she could have died. With JJ working the medical field now, he saw that. He was trying to get through to Lani; she knows that he still loves her.
There was a social media pic of you, Lamon, and Casey, who has his hand on Lani's unborn baby. Everyone looks happy and there's such promise. It's quite a contrast to what quickly came out after on-air.
At the time of that photo, JJ and Lani were hoping there'd be light at the end of the tunnel. Hope (Kristian Alfonso) had asked JJ if he could step in and by there by Lani's side and watch Eli and Lani raise the child. [The Instagram photo] was creating that. It showed JJ and Lani can still have a life and Eli will be the father. Had this pregnancy never happened, maybe JJ and Lani would still be together and she would have become pregnant by JJ.
Lani will find out on Friday that the baby has died.
Correct. My throat is closing up as I talk about it. I remember that day. It still makes me so emotional. I can't even talk because I'm so emotional about it. I really let myself go. I remember collapsing in Lamon's arms. It's just something that you don't want to ever hear.
See Also
Just how desperate is Theresa to get her man back? We've got the scoop!
Soaps are famous for creating long-lost children and sometimes they come out of nowhere. But DAYS went into the history books in order to tie Lani to one of Abe's former loves, Tamara Price, played by singer/actress Marilyn McCoo. Have you two ever met?
Yes! I actually got to meet her this past Thanksgiving when we were both volunteering at the L.A. Mission. She was there and she came up to me and we had such a nice moment. She's the kindest, most beautiful person. She gave me such love. I'm really honored to have met her. Previously, I had created her in my mind and what Lani's history is with her mom. Meeting her and getting to talk to her a little bit gave me so much!
She's gotta get back on the show!
I know! They have her in Miami right now, so she needs to come back!
Days of Our Lives, Weekdays, Check Local Listings, NBC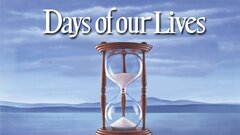 Powered by