'Days of Our Lives' Star Jen Lilley on Theresa's 'Indecent Proposal' to Brady
There's never a dull moment when Theresa Donovan (Jen Lilley) is on the Days of Our Lives canvas and, well, things are about to get much more interesting this week.
We know that Ms. Donovan — after being imprisoned by human traffickers in Mexico for a year and a half — has made her way back to Salem, only to be surprised by how people have moved on since she left… and who they've moved on with! Now, it's time for the onetime bad girl to use her survivor's smarts in a matter of the heart: to win back baby daddy Brady (Eric Martsolf), before he marries her crafty sister, Eve (Kassie DePaiva)!
This week, with some assistance from manipulative mogul Victor Kiriakis (John Aniston), Theresa has gotten to the point where she's dangling both Bella and Titan companies in front of the couple in exchange for one teeny-tiny thing: that Brady make love to her. "It is an indecent proposal and definitely desperate," explains Lilley, whose return stint began in early May.
See Also
The veteran soap star sent out a tweet that has fans thinking that the actor's time in Salem has come to an end!
The good news in this sibling saga? That bond hasn't completely disintegrated. "There's a lot of sisterly love left," Lilley says. "Each understands the predicament the other is in." Which is not to say they won't go for the jugular to win Brady.
Here's more of what Lilley had to say about Theresa's return and just how far she'll go to get her man back.
Jen, you're crying so much since Theresa has returned. Every day!
Jen Lilly: Yeah, it's all the tears that Theresa wasn't allowed to cry when she had to fake it with Brady before. But Theresa's completely desperate. She fought so hard to survive Mexico and she did. But to come this far, she's not going to back down to get back what's rightfully hers, which is Brady and her son, in her mind.
Will we see her go back to the Theresa we knew when she was full-on conniving all the time?
She's not full-on conniving in this transition, but as a result of what she's been through, she has hardened a bit and she doesn't trust people. She has re-adopted her former ways of self-preservation and she's a fighter. In her mind, she's still doing things out of love. She's also got a warped sense of right and wrong at this point. She thinks that she was in the right leaving and I, as her portrayer, agree with that, her self-sacrifice. I don't think anyone would disagree that it was the right thing to do because she had no choice. So while she partly understands that Brady's moved on with her sister, it's so disturbing to her and she keeps thinking 'Yeah, but if I hadn't left…'
In that way, she is very much old Theresa. She's so into self-preservation mode and I have to convince Brady we were in love for three years, we have a son together. He's just not thinking clearly. He doesn't like my sister, she's an old bag. [Laughs] I love Kassie DePaiva. But Theresa's not thinking the whole equation through. She's just like 'Yep, A plus B equals C.' And they're like 'That's only half the equation.' She's not thinking rationally and is grasping on to whatever she can grasp and just running with it and then it like hits her in the face. She's throwing boomerangs.
As you said, it's good to see the sisterly love between Eve and Theresa but it's definitely complicated!
I think that's what is so great that Ron Carlivati set up in the writing is that he does honor the relationship that Theresa and Eve have. There's part of Theresa that is disgusted that her would-be-husband is engaged to her sister. Then, of course, Eve understands the predicament that they're all trying to unravel the truth, and for Brady and Eve, it's a matter of realizing and unraveling the truth of why Theresa left. For the last year and a half, they thought she was just being selfish.
Theresa has also found JJ again to lean on, which is surprising but nice to see, given their history.
I love that they did that because I love Casey Moss. If you remember during Theresa's exit scenes, JJ and Theresa were in the church and he runs into her and he makes fun of her at first. He's like 'I never thought I'd see Theresa Donovan in a church praying.' And then she turns around and he's like, 'Oh, are you crying?' And she's like, 'What do you care?' And then they have this really poignant, amazing set of scenes.
That moment in time always stuck with JJ. He knows that Theresa's story is true and he remembers the church moments and he very much is an advocate for her. Their friendship restarts, which is interesting because that's how I came on the show, being an ally with JJ.
See Also
'I'm very grateful they didn't make me a twin,' the actor quips.
How is it getting back into the character? Was it an easy thing to slip back into or was there some adjustment?
The only adjustment for me was getting back into the swing of memorizing 40 to 70 pages a night of dialogue! But it's completely natural for me and it was just so wonderful because the scenes that are airing now, it was so easy to just to fall into that. We only get one take and you never know what's going to come out. It was so natural for me to cry at the right moments and to be upset at the right moments and to like visibly and physical be shaking and feel sickened. Like I said earlier, it's all the things that Theresa could not show Brady before.
Days of Our Lives, Check local listings, NBC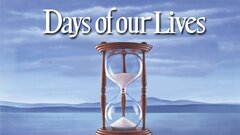 Powered by