'Preacher' Superfan Betty Buckley on Joining the Series: 'I Was Literally Dancing Around My House'
Remember Betty Buckley as Eight Is Enough's ever-patient and loving stepmom Abby Bradford? You're gonna need to get over that, Preacher fans.
On June 24, the versatile actress, singer and Broadway icon joins AMC's deliciously subversive dramedy as the current-day version of Jesse Custer's freaky "Gran'ma," Marie L'Angell.
No cuddly cookie baker, this one. Instead, Gran'ma's a spell-casting, dead-raising, enterprising "spiritist" with a loyal pair of enforcers (Falling Skies' Colin Cunningham and Nashville's Jeremy Childs), a thirst for eternal youth — and her long-lost grandson on her doorstep, desperate to bring his beloved Tulip (Ruth Negga) back among the living, no matter what the cost.
Picking up where Season 2's finale left off, Jesse's continued mission to track down God (or maybe claim the title for himself) has led him to the one place he dreads most: Angelville, the creepy Louisiana plantation where he was raised under, er, less-than-ideal circumstances. Not surprisingly, he quickly discovers that no amount of time can erase some grudges, even as new obligations abound.
And, as ever, Gran'ma means business. Need a spell or spirit? Pay a fee — or pay with your soul.
Are these kin really kindred spirits? We asked Buckley for insight.
One look at your resumé and there's no arguing that you're the ultimate in versatility as an entertainer — but this still may not be the first thing people think of when they hear "Betty Buckley." What drew Betty to Marie?
Betty Buckley: Well, I've been a fan of the show for the first two seasons. I was just channel surfing one night and came across it and was like, "God, what is this show? It's so weird." I quickly became addicted to it and couldn't wait to see it week-to-week.
So, I was just sitting on my ranch in January after the Christmas holidays, and my agent called and said there was this role of Madame Marie L'Angell — Gran'ma in the graphic novels — and that she was going to be one of the primary villains for Season 3. She said that they were interested in me for it, and I was ecstatic. I mean, I was literally dancing around my house.
I got the part and they flew me out almost immediately to New Orleans to start shooting. It was the greatest four months of my life. The cast is absolutely phenomenal. I'm, like, literally in love with Dominic Cooper, Ruth Negga, and Joseph Gilgun and Colin Cunningham who plays TC, one of Gran'ma's henchmen and Jeremy Childs who plays Jody, another henchman.
What's it like coming onto a show when you're already a massive fan?
My first week in town I was at a restaurant in New Orleans and sitting at a bar waiting for my table and Pip Torrens walks in and sat next to me. I was like, "Oh my God, Herr Starr!" And he looked at me like I was some kind of weird mall girl, and I said, "Oh, no. I'm Betty. I'm Betty. I play Gran'ma." That was my first encounter with him.
I'm just a huge fan of all these people, so much so that my first couple of days working with Dom and Ruth and Joseph on the set I really had to just calm down. Because I was just kind of watching them like a fan watches people, as opposed to remembering my character. It was really silly.
In fact, I saw some footage from that first couple of days and I literally said to the director as he was showing it to me, "Oh man, you got to cut around that because I look like an adoring fan." Like, "Please, help me remember to act." It's so dopey. [Laughs]
How exactly does one prep to become an evil Cajun sorceress?
I interviewed Sam Catlin on the phone for a couple hours before I started, and then also the producing director, Michael Slovis, to get some background on the character. I also looked at the graphic novels, and what I didn't understand I had to make up.
I also worked with my psychologist on creating this really evil character. I've played a lot of people with aberrated psychologies in my career, but I don't know if I've played anybody as intentionally cruel as this character is. For the first couple of three weeks of working on the show, she really entered my dreams in a nightmare fashion. I was calling my psychologist several times a week to work it through, because it was really dark. It was a dark place!
And the action — the stunts — are out of this world. Our stunt director is just brilliant and the first time on set with Ruth, I got to do some really cool stunts. They were treating me like, "Oh, be careful!" like I'm this old lady, because I am. But I was like, "Hey guys, I just want to tell you, you don't have to worry. I'm from Texas. I live on a ranch. I'm a cowgirl." And they're like, "Oh. Oh!"
I've died horribly in movies, like Split and Carrie, but I never had done that before. So that was super fun.
I loved Oz, of which you were a terrific part. Tell me about getting to enter, again, a television universe where it's unapologetically all about people's lesser angels and worst inclinations. Freeing?
It's my favorite kind of work to get to do, because I studied for years and years with some of the greatest teachers in the business to learn how to be a really, raw, truth-telling actress. My role models were Kim Stanley, Geraldine Page, Gena Rowlands. I wanted to become that kind of actress, so I studied for a long time to learn how to do that.
I've played a lot of mothers and nice, well-meaning people in my life, too, but the parts that are most fun to play and interesting to explore are those with aberrated psyches, who from their childhood were literally taught by example and experienced the wrong thing of how to live in community with others, and why they're the way they are is what's fascinating to me.
I've been a study of human psychology and comparative world religions from my twenties on — people, humanity, life on this planet, why we do what we do and who we really are in spite of what we think we are, fascinates me. So to get to be that kind of truth-telling storyteller, has always been the thing I prefer to do.
I'm a bit of a rebel inside, and I was a child of the '60s, and I think of myself as a rock 'n' roll kid even though I never really got to do that. I've lived my own version of it to the best of my ability, and I think of myself as one of the outliers. What was so great about being on Preacher is everybody in that crew, everybody on every part of the show feels the same way about themselves. It's almost like it was a gathering of the family, of the nerds who have stories to tell.
Plus, as a student of comparative world religions, I love Preacher's iconoclast nature. They really take all the cultural and religious icons that you have rooted in your consciousness from your childhood and they turn it all upside down. Which is shocking at first, but then it forces you to rethink your philosophy and then recommit to what your own convictions are about respect for life and respect for other people. It's very effective that way and helping people process their most primal emotions — as you call them, your darker angels.
Give me your own personal take on Gran'ma's motivations and what drives her. Is it an aberrated faith? Is it power? Is it loyalty? Is it invincibility?
She learned her cruelty from her background with a very cruel father, and he ran this plantation and the tombs, and it was all a part of his business. We don't know really how old she is. She could be hundreds of years old, according to Sam Catlin, but she learned her skills, I believe, from one of her father's mistresses who was a mulatto slave and a Cajun sorceress, and she identified with her father's cruelty because her mother was really weak and retiring because of, again, the father's cruelty.
So she just stopped participating, so to speak. In her mind, the learned thing is you have to be strong, you have to be powerful or people will take advantage of you.
At this point that we find her, she herself was brutalized, so she brutalizes. It's the chain-of-family-abuse kind of thing. At least that's my theory, and with the little facts that I could garner from everything from Catlin and everyone's perspective.
And now here is Jesse standing before her again.
Jesse Custer has left the plantation, and he was her roper. He was like her PR guy. He went out and got people to come to Madame L'Angell for the spells — for whatever they needed for healing, for love spells, for whatever — and the methodology was always if they didn't pay the bill, then she would take their soul. And it's discovered how she found out that taking people's souls can help her persist.
She doesn't want to die, and she doesn't want to grow old, and her beauty is very, very important to her — because, the way she negotiated, her beauty gave her power, too, but she's learned these spells, and she's a really good sorceress. She calls herself a healer in the first couple of episodes, and I think she's very sincere about that, but when people don't pay her or fulfill their contract, then she takes everything they have, which is their soul, and she feels justified in doing so.
She can't tolerate disrespect and a lack of appreciation, and so we find her at the beginning of Season 3 in a kind of compromised state. She's ill and diminished from all the years since Jesse has left, and she's very angry at him for abandoning the family business — but she loves him very much, and he's her only living relative, so he comes with this enormous favor to ask, and she's ready to fulfill that for him for a price. And that's where we go from there.
Tell me about playing that relationship with Dominic, who is so good as Jesse.
I was already his fan, and, like every girl that meets him, I have a crush on him. He's a brilliant young actor, and he's a beautiful man, you know? [Laughs] So, we had an immediate chemistry, and we became very good friends during the four months.
They were all very kind, and they just created the space for me to be there, and because I was a fan of the show, I think I was pretty up on the style and listened very carefully … and had an easy connection and camaraderie with Dom and Ruth and Joseph in my early work with them. There was an immediate give-and-take relationship with them as actors, which one always hopes for but doesn't always find. Dom and I had a very special connection, which I'm very grateful to have experienced.
I imagine Joseph [Gilgun, who plays vampire Cassidy] is a memorable acquaintance, as well?
Oh God, Joseph! [Laughs]. He comes from a family that are like gypsies — they're called the Travellers.
He doesn't have a cellphone or an address. He is such a character. He tells stories in the makeup trailer and his stories are just hilarious, and they go on and on and on. I was like, "Please, Joseph. Can we spend more time? I just wanna hear more stories, more stories." He's a brilliant storyteller. In fact, he's in London now making a new show about his life, which I can't wait to see. I think he's a genius. I told him that.
We've been talking about dark things — fun things, but dark things — so let's switch gears a little. Tell me about the catalyst behind your new record, Hope. It's getting great initial response, and it couldn't come at a better time, since most of us are exhausted to our souls right now.
Well, there you have it. That's what it's about — trying to put together a collection of music that soothes that soul experience because we're so exhausted with everything that's going on. It's centered around a song called "Hope" that was written by Jason Robert Brown, who contributed three songs to my last CD, Story Songs, which was released a year ago.
I called him this year to see if he had any new material to send me, and he said, "Not really, but I did write one song the morning after the election," and he sent that to me It's just a beautiful, beautiful song about rolling up your sleeves and deciding to work in spite of the fact that you're completely flummoxed about everything and feeling very defeated and mentally exhausted. It helps you experience that feeling and then recommit. At least it did for me when I heard it.
So, with my beautiful collaborator, Christian Jacob, we picked material around that. Three songs from T Bone Burnett, who's my good friend; we grew up together in Fort Worth. Material from Paul Simon, Mary Chapin Carpenter, Lisa Loeb, a couple of standards, and then two songs by one of my favorite bands, Steely Dan, which I love their song "Any Major Dude Will Tell You."
It's such a sweet idea in trying to say, "Look, a major dude in the world will tell you the truth. Don't listen to anything other than a major dude."
The structure of the album and the music is meant to take you through a process of free association with the images that the lyrics present and the feelings that the music offer, and to help you go through a cathartic journey to, hopefully, by the end, reclaim your hope for a peaceful, beautiful remembrance of this beautiful world that we live in.
And now you're about to embark on "Hello, Dolly!" — a 44-week tour of more feel-good.
My catch phrase for that is we're gonna "Make America Happy Again!" I don't know if you've seen the current Broadway production, but it's just so joyous. I saw it last winter with Bette Midler, and the whole place was standing up at the end. Tears were just streaming down my face, everybody I've talked to had the same similar experience. It's such a joyous production that you feel rapture by the end.
I'm just personally grateful to get to play somebody like Dolly Levi as an antidote to Madame L'Angell, after four months of immersing myself in this dark, murky world of Angelville.
I'm quite sure that my friends and family are gonna think I'm completely schizophrenic.
Preacher, Season 3 Premiere, Sunday, June 24, 9/8c, AMC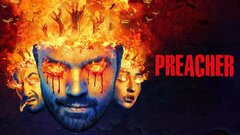 Powered by