Ellen Pompeo Says 'Grey's Anatomy' Exits Helped Her $20 Million Deal
Fans of Grey's Anatomy can thank Patrick Dempsey and Shonda Rhimes for Ellen Pompeo sticking around — sort of.
The actress, who attended the Cannes Lions International Festival of Creativity this week, spoke candidly about her groundbreaking $20 million deal for Seasons 15 and 16, and how it came about.
Earlier this year, Pompeo revealed her big salary bump, as she became the highest paid actress on television. But it wasn't always like that — in fact, the TV vet had to advocate for herself. Luckily, she had leverage when it came time to sit at the negotiation table.
According to Entertainment Tonight, Pompeo explained that "timing was everything," when it came to her deal, as the #MeToo and Time's Up movements were in full swing. But it was her seniority and the recent losses of the show's other two big talents.
"The studio didn't have two key players to leverage against me," Pompeo stated during the panel. "They no longer had Patrick Dempsey [who played Derek Shepherd] or [showrunner] Shonda [Rhimes]. They had nobody left to hang the franchise hat on."
Dempsey departed when Derek Shepherd died at the end of Season 11, while Rhimes exited ABC for a new deal at Netflix in late 2017 (though she remains as an executive producer). Of course, fans definitely mourned McDreamy, so being thankful for Dempsey's exit may be a lot to ask.
Thankfully, Meredith Grey will be sticking around for at least a couple more seasons, because, after all, what would Grey's be without Grey?
Grey's Anatomy, Thursdays, Fall 2018, ABC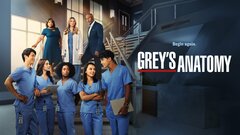 Powered by