Ellen Pompeo Says They're Starting to Think About 'Grey's Anatomy' Series Finale
Grey's Anatomy isn't going anywhere, anytime soon.
The long-running ABC medical drama was just renewed for its fifteenth season, and series star Ellen Pompeo (Meredith Grey) revealed to Entertainment Tonight that of course, the show will eventually end, but right now it's all about next season.
"We just take it one season at a time," she said. But … "we're starting to think about how you would end a show this iconic."
And why fix what isn't broken? Pompeo has complete faith in series creator Shonda Rhimes and returning series head writer Krista Vernoff — "The show's a tremendous money maker, let's be honest."
"It makes a fortune for everybody and everyone wants to keep it going," Pompeo added. "Now, it's sort of fun. We're in a contest with ourselves. How long can we keep this going and still have this level of quality."
Pompeo is in a rare and safe position on TV, knowing that her character won't be killed off — "I know I'm going to survive because there's no show without me, so I never worry how I'm going to survive this. I guess I just worry if the audience will like it."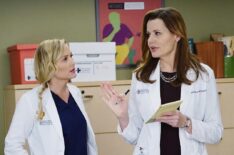 See Also
Could this be why Jessica Capshaw exits the show?
The show's Season 14 finale on May 17 will mark the departure of two Grey Sloan Memorial Hospital doctors: Dr. Arizona Robbins (Jessica Capshaw) and Dr. April Kepner (Sarah Drew).
Pompeo opened up the roller-coaster ride of emotions the cast went through saying goodbye.
"I mean, because everything is the last, right? It's the last time they'll do this, it's the last time they'll do that. It's the last time they'll rehearse and it's really emotional," she said.
"We're a family and they were both on the show [for] nine and 10 years. Grey's is such an iconic show. Everybody who's ever been on the show is meaningful to the show, right? Everybody's meaningful to the fans."
And she was just as shocked as everyone else when she learned about the casting news.
"My first reaction was, 'What? What do you mean? Why?'" she admitted. "And then you go through levels and stages of grief. It's hard for them, it's hard for us, it's hard for the writer who had to make the choice, [who] had to make the creative decision."
See Also
It's time to say your goodbyes to Drs. Arizona Robbins and April Kepner.
Grey's Anatomy, Thursdays, 8/7c, ABC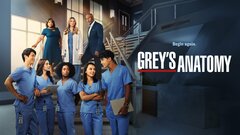 Powered by